Roman Reigns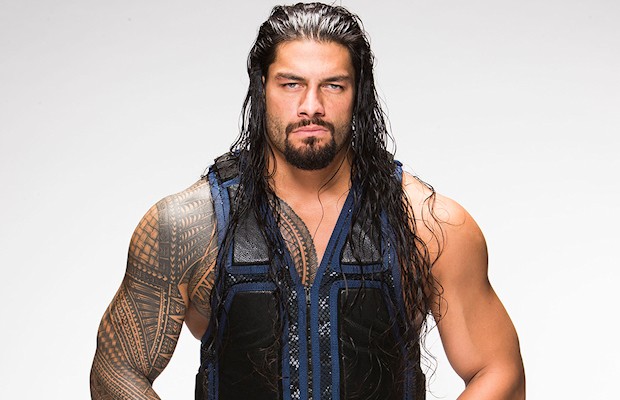 A former collegiate football standout, Leati Joseph "Joe" Anoa'i broke out in WWE as a terrorizing member of The Shield alongside Dean Ambrose and Seth Rollins as Roman Reigns.
Who Is Roman Reigns' Wife? | Why Was Roman Reigns Arrested? | Which Former WWE Wrestler Is Roman Reigns' Dad? | How Old Is Roman Reigns? | Is Roman Reigns On Facebook Or Instagram? | Roman's Path To Greatness | Roman Reigns Arrives To WWE | Latest Roman Reigns News | Roman Reigns Photos
People Also Search For: Randy Orton | John Cena | Brock Lesnar | Bray Wyatt | Daniel Bryan

Roman Reigns Photos
---
---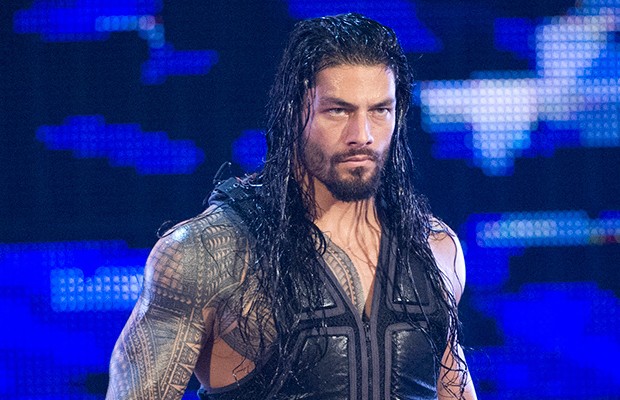 Who Is Roman Reigns' Wife? – With Roman Reigns' rapidly escalating notoriety due to his WWE fame, this has led many grappling fans to search for personal information on the 30-year-old former football player, such as whether or not he has a girlfriend. The former Shield powerhouse is actually married to his college sweetheart, Galina Joelle Becker. The couple have been together since the two attended college at Georgia Tech. Together, they have a daughter, who was born in 2008. Her name is Joelle Anoa'i and she is seven-years-old.
The WWE heavyweight star introduced Becker to the public eye in 2014 as he attended the WWE Hall of Fame Induction Ceremony during WrestleMania 30 weekend in New Orleans, Louisiana with his college sweetheart seated beside him. While Reigns was sidelined from the squared circle with an incarcerated hernia, the longtime couple got married in December 2014. The wedding ceremony took place at Disney's Castaway Cay, a private island which Disney uses as a regular destination for their cruise line. (See Photos Of Roman Reigns With His Wife ▸)
So just who is Galina Joelle Becker? Now 28-years-old, she was born on March 11, 1987 in Jacksonville, Florida to parents Kevin and Mildred Becker. Becker has two older sisters, Molisa Cooper and Undine Becker. Undine attended Stanford University (2001-05), where she ran track.
Reigns and Becker first met when they attended Georgia Tech, where Reigns was a standout defensive end for the Yellow Jackets. However, the WWE Superstar is not the only athlete of the twosome. Becker actually excelled in track and field in high school and college.
Growing up in San Jose, California, Becker attended Mt. Pleasant High School (2001-05), where she lettered in track and field for three seasons under coach Steve Nelson. During her sophomore and junior seasons, she won region titles in the long and triple jump events. She was the Most Valuable Performer of her team in her freshman, sophomore and junior seasons. She holds Central Coast Section record in the triple jump with a mark of 40'5″. For one season, Becker lettered in volleyball.
Why Was Roman Reigns Arrested? – When a professional wrestler becomes popular, fans will go online to discover as much information about that person as possible. With Roman Reigns' booming popularity in WWE, many fans have have discovered that the popular WWE Superstar was arrested in the past. (See Roman Reigns' Mugshot ▸)
The event in question occurred in the Pensacola, Florida area on June 20, 2010, just a few weeks before the former member of the Georgia Tech Yellow Jackets football team had signed a contract with WWE to join the organization's then-developmental branch, Florida Championship Wrestling. Reigns, who was 25-years-old then, was arrested for disorderly intoxication and affray, unlawful assembly, or riot, according to a public record. In other words, the future WWE Superstar was jailed for appearing drunk in public and participating in a fight. He was later released on $1,000 bond, with charges of $500 for each offence.
Word of his infraction did not become public knowledge until 2014 when his mugshot was uploaded to MugShots.com, with the image being labeled as WWE Superstar Roman Reigns. It is not known whether WWE officials were ever informed of his arrest.
Roman Reigns' Wrestling Attire – Just who is Roman Reigns? WWE fans still don't have a clear picture, and insofar as having his gear give us a hint, that's not happening. When he was in The Shield, he was one-third of a rogue collective of individuals who dressed in SWAT gear because they were hell-bent on using "covert"-style operations to prevent those engaging in unjust behavior.
Now, The Shield is a distant memory and while Seth Rollins' grappling attire continues to reflect some aspects of his gear in The Shield, it's more a latex homage to his CrossFit based athleticism. Of course, Dean Ambrose simply wears tank tops, boots and jeans, the closest thing WWE has had to "Stone Cold" Steve Austin as a Superstar and presentation since "The Texas Rattlesnake" was raising hell in the sports-entertainment organization.
So, given that Roman Reigns has yet to explain why he continues to wear the SWAT gear, it's worth mentioning that he does have a history of wrestling without a shirt on. While competing in WWE's developmental system under the name Leakee (in Florida Championship Wrestling from 2010 to 2012 and briefly in NXT in the latter year), Roman Reigns actually performed in traditional wrestling attire. Will this ever happen again? Perhaps if and when WWE feels the need to revitalize his character, likely as a villain.
Where Does Roman Reigns Live? – As you might assume, being a professional wrestler comes with some good and some bad (just like any other celebrity). A grueling schedule year round is part of the bad that most grapplers have to endure throughout their years in the industry. Furthermore, the amount of travel these individuals go through over the course of a given year certainly wares on them after a while, and living out of a suitcase surely doesn't make anything easier. Although, after all the strain comes the perks. The rewarding part for many WWE Superstars is getting the opportunity to head home for a couple of days, and for most of these performers, home is a beautiful place where luxury and relaxation are essential.
Numerous wrestlers call Tampa, Florida home and Roman Reigns is among them. Having grown up in nearby Pensacola, the WWE Superstar currently resides in the sunny city with his wife and daughter.
What Is Roman Reigns' Real Name? – Sure, some WWE Superstars use stage names instead of their actual names, but Roman Reigns' real name just might make you do a double-take!
His real name is Leati Joseph "Joe" Anoa'i (last name pronounced an-uh-WHY-ee). The WWE competitor is named after his father, Leati Anoaʻi, a former professional wrestler who competed under the name Sika.
Roman Reigns Sings To His Daughter – Roman Reigns is built like a barbarian, has some marvel maneuvers and, of course, his cousin is Dwayne "The Rock" Johnson. But what most people don't know about this WWE Superstar is that he's also a father (and a pretty darn good one at that).
Standing at 6'3″ and weighing in at 265 pounds, the last thing members of the WWE Universe would expect to see is "Big Nasty" singing "I'm a Little Teapot" to his daughter. But he does exactly that, and it's quite adorable.
This is a side to the WWE Superstar fans probably thought they'd never see. But if you liked him before, you'll like him more now.
Roman Reigns On Social Media – Unlike many of WWE's Superstars, Roman Reigns is not particular active on social media. He has an account on Twitter at wweromanreigns, but very rarely posts messages. Reigns does not have personal accounts on Facebook or Instagram. All accounts posing as the WWE Superstar are fake.
How Old Is Roman Reigns? – To many wrestling fans, the age of Roman Reigns is unclear. The WWE Superstar is 30-years-old—he was born on May 25, 1985 in Pensacola, Florida.

Roman's Path To Greatness
---
At six-foot three inches and a rock-solid 265 pounds, Roman Reigns boasts the physical stature, along with the looks to which WWE officials are instinctively drawn in both male and female performers. He is the son of WWE Hall of Famer Sika of The Wild Samoans and is a member of the legendary Anoa'i wrestling family—this incredible lineage includes intimidating grapplers such as High Chief Peter Maivia, Dwayne "The Rock" Johnson, Yokozuna, Rocky Johnson, the Usos, Umaga, Rikishi, Rosey, Manu and Tonga Kid.
Before he donned his first pair of wrestling boots, Roman Reigns had tried and failed to make it in professional football. After playing four years at Georgia Tech, he was signed but quickly dropped by the Minnesota Vikings and Jacksonville Jaguars between May and August 2007. He did play a handful of games for the Edmonton Eskimos of the Canadian Football League (CFL) in 2008, but was again cut in November of that year.
Football had been Anoa'i's first career choice. However, as the son of WWE Hall of Fame Sika and relative of other wrestlers, the squared circle was a back-up plan, just in the case. Every wrestling savvy member of the family recognized that he had the most important quality any WWE Superstar can possess – "the look."
His football career over, Anoa'i began training for professional wrestling. He lost weight (as a defensive tackle, he weighed as much as 325 pounds) and began tightening his physique.
WWE, which had been aware of Anoa'i for years, didn't require any arm-twisting to sign him to a developmental contract in July 2010. On September 9, 2010, Anoa'i made his debut in Florida Championship Wrestling, the then-developmental promotion of WWE, under the name Roman Leakee – he lost to Richie Steamboat. Additional losses to Wes Brisco and the future Damien Sandow (then known as Idol Stevens) ensued, before he gained his first victory on September 21, 2010 over Fahd Rakman. Leakee continued wrestling in Florida Championship Wrestling throughout the remainder of 2010 as he largely competed in tag team affairs. On the January 16, 2011 edition of FCW Wrestling, Leakee participated in a 30-Man Grand Royal to earn a shot at the FCW Florida Heavyweight Championship held by Mason Ryan – he was eliminated. Later that year, Leakee aligned himself with Donny Marlow and the duo unsuccessfully challenged Big E Langston and Calvin Raines for the Florida Tag Team Championship on July 8.
On the February 5, 2012 episode of FCW Wrestling, the three men who would become The Shield collided in a Triple Threat Match to name the number one contender to the then-FCW Florida Heavyweight Champion Leo Kruger (now known as Adam Rose). Leakee, as Anoa'i was simply known, defeated Dean Ambrose and Seth Rollins. The physiques of all three have changed considerably since this match was held. Leakee lost the following week to Kruger. On June 15, 2012 at a Florida Championship Wrestling live event in Palatka, Florida, Leakee and Mike Dalton captured the FCW Florida Tag Team Championship from Corey Graves and Jake Carter. The reign, however, was short-lived as the duo lost the championship the following month to CJ Parker and Jason Jordan.
In September 2012, Anoa'i was renamed Roman Reigns and hyped as a wrestler with the "it factor." That was an exaggeration. He looked the part before he crushed CJ Parker in his WWE NXT debut on October 31, 2012, but was mediocre in the ring and flat on promos. He did not seem ready for the main stage, even after two years in WWE's developmental system. From his physical appearance, however, it was obvious he would receive a chance at WWE glory: equipped with "the look," Reigns was a safer bet for stardom than Ambrose or Rollins.

Roman Reigns Arrives To WWE
---
In a surprising turn of events, Reigns officially debuted for WWE alongside Ambrose and Rollins on November 18, 2012 during the closing moments of the main event at Survivor Series. Running in, wearing matching black outfits, the heel trio powerbombed Ryback through the announcers' table after the former Skip Sheffield had Shell Shocked John Cena in the ring. The third man in this Triple Threat Match with Ryback and Cena was WWE Champion CM Punk, who pinned Cena amid the chaos to retain the gold.
On Colt Cabana's Art of Wrestling podcast, CM Punk claimed to have devised the concept of The Shield, proposing to WWE officials that the group be made up of former independent wrestling stand-outs Dean Ambrose, Seth Rollins and Kassius Ohno. WWE quickly replaced the latter—better known as Chris Hero—with Reigns, but the promotion clearly chose its man wisely.
"On the real, from the day we started and had this opportunity, it was, 'Okay, screw everybody else in the world, we're going to take over this company and this business for the next ten years, what it is," Ambrose stated in March 2014 to Reminder Publications. "We'll fight whatever battles we need to fight together and we'll stick together and have each other's backs in circumstances.' It was an all-for-one, one-for-all mentality. And we've done that and it's been successful. I think you see that and it comes off as very real, 'cause it is real."
"We are very different dudes away from the ring and have different likes when it comes to music, hobbies and women, and, because we have been with each other for a year straight, we do squabble from time to time," Rollins told Sky Sports in January 2014. "We hang out all the time so we do get sick of each other but that's how brothers are—and when it comes to going to the ring and kicking ass, we're one of the same."
Not only did Ambrose, Rollins and Reigns have each others' backs, but they were each an education for the other, even before they debuted at the Survivor Series. This benefited the less experienced Reigns in particular; Rollins may have been a relative newcomer to WWE, having arrived in developmental at the same time as Reigns, but he had nine years of lower league grind behind him, and in beating Austin Aries to become ROH World Champion on February 13, 2010, obviously had serious skills to offer. Ambrose was no slouch, either; trained by six-decade veteran Les Thatcher, he competed in ultraviolent matches for Combat Zone Wrestling (CZW), and dabbled with Gabe Sapolsky's Dragon Gate USA. Between the two, they offered experience of the harsher realities of the professional wrestling industry that would serve as a fine influence on their jock partner.
As a unit, they meshed immediately. Their victory over Ryback and Team Hell No (Kane and Daniel Bryan) in a Tables, Ladders, and Chairs Match at the following month's TLC: Tables, Ladders & Chairs pay-per-view event – their debut match as a unit – was incredible. The weaknesses visible in Reigns' singles outings on WWE NXT were concealed by the salvo of movement and props: it was the adroit Ambrose and Rolins who kept things moving, and steered Reigns. When the gang communicated with the public, it was the articulate Ambrose who did most of the talking. As one of three, Reigns always had a safety talk. To his credit, though, he took direction well and never embarrassed himself.
In the start/stop era, these three were a welcome exception. Green never turned red: WWE was dedicated to their push.
As a three-man squad, the scored victories over star teams at Elimination Chamber on February 17, 2013 (John Cena, Ryback and Sheamus) and WrestleMania 29 (Big Show, Randy Orton and Sheamus). On the April 26, 2013 episode of SmackDown taped in London, England, they destroyed The Undertaker and blasted him through a table with their now-familiar three-man powerbomb. "The Deadman" didn't appear at another WWE event all year, something for which The Shield members were periodically given credit by the announcers.
At Extreme Rules on May 19, 2013, Reigns and Rollins defeated Kane and Bryan to capture the WWE Tag Team Championship. Even after The Shield lost a blinding Six-Man Tag Team Match to Orton, Kane and Bryan on the June 14, 2013 episode of SmackDown – their first official defeat by pinfall or submission as a triumvirate – they were reheated at WWE Payback two days later when Ambrose beat Kane by count out, and Rollins and Reigns defeated Bryan and Orton when Rollins pinned Bryan.
Reigns and Rollins were also supplied with an excuse when they dropped the WWE Tag Team Championship to Cody Rhodes and Goldust on October 14, 2013; Big Show interfered just prior to the finish. For newcomers, and heel youngsters at that, the presentation was in stark contrast to every other fresh act in WWE this decade. At Hell in a Cell on October 27, 2013 at the American Airlines Arena in Miami, Florida, Cody Rhodes and Goldust successfully fended off the challenge of Reigns and Rollins and Jimmy and Jey Uso to retain the WWE Tag Team Championship. The brothers emerged victorious from a frenetic match after Rhodes pinned Rollins following a Cross Rhodes. The first seeds of dissension were planted among The Shield when Ambrose said that he was the only member of the group to hold a championship, drawing a cold stare from Reigns. At Survivor Series on November 24, 2013 at the TD Garden in Boston, Massachusetts, The Shield's main muscle outlasted the competition in a 5-on-5 Traditional Survivor Series Elimination Tag Team Match to become the sole survivor—Reigns pinned Jimmy Uso, Rhodes, Goldust and Rey Mysterio with spears.
After losing to CM Punk in a Handicap Match at WWE TLC: Tables, Ladders and Chairs on December 15, 2013, Reigns triumphed over The Straight Edge Superstar in a singles match on the January 6, 2014 episode of Raw—the match featured interference from Ambrose, causing Punk to lose. With the victory, Reigns became the only member of The Shield to have beaten Punk. Following Punk's departure from WWE, he revealed in an interview with Colt Cabana that he was constantly reminded by organization officials to make Reigns look "really, really strong" in the Handicap Match at TLC: Tables, Ladders and Chairs even though The Shield was scripted to lose. At the Royal Rumble on January 26, 2014 at the Consol Energy Center in Pittsburgh, Pennsylvania, Reigns entered the 30-Man Royal Rumble Match at No. 15 and made history by eliminating a record twelve WWE Superstars. He eliminated both of his Shield teammates, and was the runner-up in the contest after being dumped from the ring by Batista. The following night on Raw, Daniel Bryan, John Cena and Sheamus punched their tickets to the Elimination Chamber by defeating The Shield to earn their way into the match. The trio lost the contest via disqualification after all three members of The Wyatt Family interfered and attacked Bryan, Cena and Sheamus.

Nikki Bella Almost Had Another Wardrobe Malfunction
---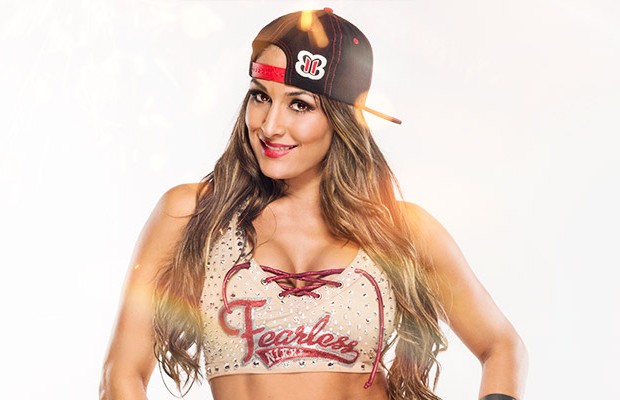 Almost exactly a year to the day of Brie Bella suffering a nipslip during a live episode of Raw, her sister Nikki suffered one of her own during the July 21, 2014 episode of Raw.
Two weeks prior to that on Raw, Nikki almost had a similar wardrobe malfunction when laid out on the ground and tied up. However, in this case, her nipple didn't pop out.
The Divas' trick to keep things in place comes in the form of double-sided tape. Former WWE Diva Maria Kanellis revealed once:
"I usually try to wear something practical and cute to wrestle in. But the problem is that most things that are sexy are so small and have a tendency to slip and move so the tigers (a.k.a. boobs) or other places come out to visit. As much as that might be entertaining to some of the studs out there (maybe some of the ladies too hehe), I think I would get thrown off the show. So, all of us girls have a secret that I am about to tell you to keep our clothes in place. It is double-sided tape. Sexy, right? Well at least it keeps the Divas covered so we can come out to play every week without getting thrown off the air for over-exposure."
Nikki seems to have learned from the incidents as she hasn't suffered a wardrobe malfunction since.

Roman Reigns On Possible Shield Reunion, Fan Support And The New Day
---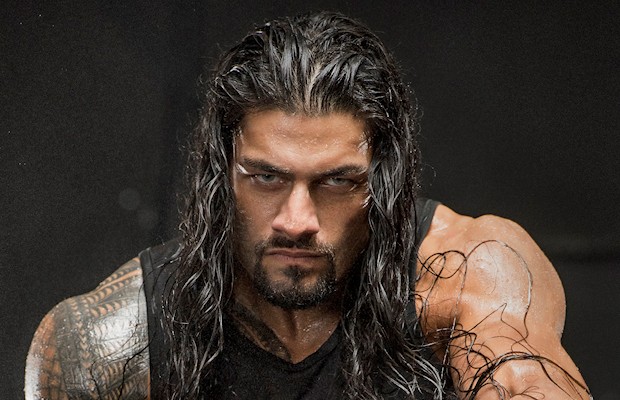 October 3, 2015 – Roman Reigns recently appeared on The Buzz with Jimmy Traina to talk about Susan G. Koman, which WWE has a partnership with, but the focus quickly became about his career.
Reigns noted during the interview that he was told that Seth Rollins would be turning his back against The Shield on the day it happened. He would focus the majority of his time speaking about a possible Shield reunion, the fan reaction and on the success of The New Day:
On a possible Shield reunion: "It's tough because I enjoy what I'm doing now. I enjoy being a singles guy. I enjoy commanding the stage with myself and an opponent. It's a different process when you're teammates. Especially with the way we work. We're very unselfish with how we work together in so many different regards. Not just what you see as the final product of the match. Just strategizing, psychology, teamwork. What made us so empowering is that we helped each other and we always looked out for each other and you didn't see that in wrestling too often. Even in factions, it's a very individual game, but The Shield, we were just iron-clad brothers in black. We made it more about the group than anything. I miss that. I miss that camaraderie."
On winning back the fans that turned on him: "It's been a work in progress. The crowd is the crowd. You're gonna take them as an individual performer how you take them. The key is how do you learn from them. How do you use whatever is happening reaction-wise to get better."
On the popularity of The New Day: "Although I've beaten some of their asses in the past few weeks, I enjoy watching them. You can tell they're having fun. That's a huge thing. When you can see a talent having fun, you can invest more."
You can listen to the interview here.