A former collegiate football standout, Leati Joseph "Joe" Anoa'i performs for WWE as a terrorizing member of The Shield alongside Dean Ambrose and Seth Rollins as Roman Reigns. At six-foot three inches and a rock-solid 265 pounds, Reigns boasts the physical stature, along with the looks to which WWE officials are instinctively drawn in both male and female performers. He is the son of WWE Hall of Famer Sika of The Wild Samoans and is a member of the legendary Anoa'i wrestling family - this incredible lineage includes intimidating behemothes such as Yokozuna, Umaga, Rikishi and Rosey. (Continue Reading ») | (Who Is Roman Reigns' Wife?) | (Photo Gallery)

ROMAN REIGNS FEATURES
Before he donned his first pair of wrestling boots, Reigns had tried and failed to make it in professional football. After playing four years at Georgia Tech, he was signed but quickly dropped by the Minnesota Vikings and Jacksonville Jaguars between May and August 2007. He did play a handful of games for the Edmonton Eskimos of the Canadian Football League (CFL) in 2008, but was again cut in November of that year.
Football had been Anoa'i's first career choice. However, as the son of WWE Hall of Fame Sika and relative of other wrestlers, the squared circle was a back-up plan, just in the case. Every wrestling savvy member of the family recognized that he had the most important quality any WWE Superstar can possess - "the look."
His football career over, Anoa'i began training for professional wrestling. He lost weight (as a defensive tackle, he weighed as much as 325 pounds) and began tightening his physique.
WWE, which had been aware of Anoa'i for years, didn't require any arm-twisting to sign him to a developmental contract in July 2010. On September 9, 2010, Anoa'i made his debut in Florida Championship Wrestling, the then-developmental promotion of WWE, under the name Roman Leakee - he lost to Richie Steamboat. Additional losses to Wes Brisco and the future Damien Sandow (then known as Idol Stevens) ensued, before he gained his first victory on September 21, 2010 over Fahd Rakman. Leakee continued wrestling in Florida Championship Wrestling throughout the remainder of 2010 as he largely competed in tag team affairs. On the January 16, 2011 edition of FCW Wrestling, Leakee participated in a 30-Man Grand Royal to earn a shot at the FCW Florida Heavyweight Championship held by Mason Ryan - he was eliminated. Later that year, Leakee aligned himself with Donny Marlow and the duo unsuccessfully challenged Big E Langston and Calvin Raines for the Florida Tag Team Championship on July 8.
On the February 5, 2012 episode of FCW Wrestling, the three men who would become The Shield collided in a Triple Threat Match to name the number one contender to the then-FCW Florida Heavyweight Champion Leo Kruger (now known as Adam Rose). Leakee, as Anoa'i was simply known, defeated Dean Ambrose and Seth Rollins. The physiques of all three have changed considerably since this match was held. Leakee lost the following week to Kruger. On June 15, 2012 at a Florida Championship Wrestling live event in Palatka, Florida, Leakee and Mike Dalton captured the FCW Florida Tag Team Championship from Corey Graves and Jake Carter. The reign, however, was short-lived as the duo lost the championship the following month to CJ Parker and Jason Jordan.
In September 2012, Anoa'i was renamed Roman Reigns and hyped as a wrestler with the "it factor." That was an exaggeration. He looked the part before he crushed CJ Parker in his WWE NXT debut on October 31, 2012, but was mediocre in the ring and flat on promos. He did not seem ready for the main stage, even after two years in WWE's developmental system. From his physical appearance, however, it was obvious he would receive a chance at WWE glory: equipped with "the look," Reigns was a safer bet for stardom than Ambrose or Rollins.
In a surprising turn of events, Reigns officially debuted for WWE alongside Ambrose and Rollins on November 18, 2012 during the closing moments of the main event at Survivor Series. Running in, wearing matching black outfits, the heel trio powerbombed Ryback through the announcers' table after the former Skip Sheffield had Shell Shocked John Cena in the ring. The third man in this Triple Threat Match with Ryback and Cena was WWE Champion CM Punk, who pinned Cena amid the chaos to retain the gold.
As a unit, they meshed immediately. Their victory over Ryback and Team Hell No (Kane and Daniel Bryan) in a Tables, Ladders, and Chairs Match at the following month's TLC: Tables, Ladders & Chairs pay-per-view event - their debut match as a unit - was incredible. The weaknesses visible in Reigns' singles outings on WWE NXT were concealed by the salvo of movement and props: it was the adroit Ambrose and Rolins who kept things moving, and steered Reigns. When the gang communicated with the public, it was the articulate Ambrose who did most of the talking. As one of three, Reigns always had a safety talk. To his credit, though, he took direction well and never embarrassed himself.
In the start/stop era, these three were a welcome exception. Green never turned red: WWE was dedicated to their push.
As a three-man squad, the scored victories over star teams at Elimination Chamber on February 17, 2013 (John Cena, Ryback and Sheamus) and WrestleMania 29 (Big Show, Randy Orton and Sheamus). On the April 26, 2013 episode of SmackDown taped in London, England, they destroyed The Undertaker and blasted him through a table with their now-familiar three-man powerbomb. "The Deadman" didn't appear at another WWE event all year, something for which The Shield members were periodically given credit by the announcers.
At Extreme Rules on May 19, 2013, Reigns and Rollins defeated Kane and Bryan to capture the WWE Tag Team Championship. Even after The Shield lost a blinding Six-Man Tag Team Match to Orton, Kane and Bryan on the June 14, 2013 episode of SmackDown - their first official defeat by pinfall or submission as a triumvirate - they were reheated at WWE Payback two days later when Ambrose beat Kane by count out, and Rollins and Reigns defeated Bryan and Orton when Rollins pinned Bryan.
Reigns and Rollins were also supplied with an excuse when they dropped the WWE Tag Team Championship to Cody Rhodes and Goldust on October 14, 2013; Big Show interfered just prior to the finish. For newcomers, and heel youngsters at that, the presentation was in stark contrast to every other fresh act in WWE this decade.
| | | |
| --- | --- | --- |
| | Was arrested just prior to joining WWE | |
When a professional wrestler becomes popular, often times fans will try to get to know as much about the individual as possible. So with Roman Reigns' surging popularity in WWE, a lot of fans have discovered that he was once arrested.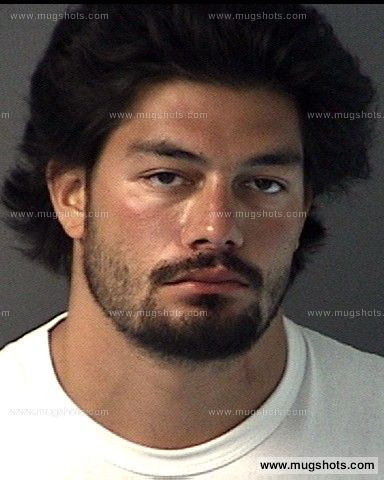 The incident in question occurred on June 20, 2010 in the Pensacola, Florida area, just a few weeks prior to the former collegiate football standout signing a developmental contract with WWE. Reigns, who was 25-years-old at the time, was arrested for disorderly intoxication and affray, unlawful assembly, or riot, according to a public record. In other words, he was arrested for appearing drunk in public and taking part in a fight. He was released on $1,000 bond, with charges of $500 for each offence.
Word of his arrest did not become public knowledge until last year when his mugshot was uploaded on MugShots.com, with it also being noted that he is WWE Superstar Roman Reigns. It remains unclear whether WWE officials ever found out his infraction.
| | | |
| --- | --- | --- |
| | Roman Reigns and his college sweetheart have a daughter together | |
With Roman Reigns' rapidly escalating notoriety due to his WWE fame, this has led many grappling fans to search for personal information on the 29-year-old former football player, such as whether or not he has a girlfriend. The Shield star is engaged to a women named Jessica - the couple have been dating since the two attended college at Georgia Tech. Together, they have a six-year-old daughter who was born in 2008.
The former WWE Tag Team Champion recently introduced Jessica to the public eye as he attended the 2014 WWE Hall of Fame Induction Ceremony during WrestleMania XXX weekend in New Orleans, Louisiana with his college sweetheart seated beside him.
Roman Reigns Girlfriend Photos

---

| | | |
| --- | --- | --- |
| | Roman Reigns speaks out | |
Roman Reigns, who remains indefinitely sidelined after undergoing emergency surgery on an incarcerated hernia last month, should be back in the ring by January as he is being advertised to appear at the Royal Rumble taking place on Jan. 25, 2015.
The official website of the Wells Fargo Center in Philadelphia, Pennsylvania issued this notice today to remind fans that tickets go on sale this Saturday with Reigns mentioned as appearing.
"Roman Reigns looks to improve on last year's record-setting Royal Rumble performance when he eliminated 12 participants in the battle royal match before finishing second, losing to Batista. He already has been a WWE Tag Team Champion, and the former NFL defensive lineman looks to be a future WWE Champion in the making."
During an interview on Oct. 5, 2014, Reigns revealed to radio host Sam Roberts that his return "may be a couple months away." He noted, "It just varies. It's going to be a week-to-week basis, so, we'll see."

Latest Headlines
»

The Rock Doing a Christmas Karaoke SmackDown, NXT Star Returning Soon
»

The Vaudevillians Getting Their NXT Rematch, John Cena Grants a Wish
»

Eric Bischoff on Monday Night War, NXT Stars Work WWE Live Events, Fury
»

WWE Survivor Series Buys Revealed
»

News for Tonight's WWE SmackDown Tapings, Hideo Doing a Weekly Column
»

WWE NXT Diva Doing Ring Announcing, Shane Helms Talks Recent Surgery
»

WWE Superstar Returns from Injury at Live Event
»

WWE Hall of Famer Reportedly Injured at Indie Show
»

Photos of Vince McMahon and WWE Stars Visiting Troops, Footage on NBC?
»

Seth Rollins Talks About His Character, His In-Ring Style, WM 31
»

John Cena & Seth Rollins Featured on WWE DVD Cover, Shield DVD Update
»

Former WWE Trainer Talks About WWE's Next Big Stars, Sting Coming In
»

WWE Removes Video Accidentally Showing The Bunny Without His Mask On
»

Brock Lesnar Slimming Down for UFC Return?, Backstage Talk on His Future
»

Triple H Makes Rare Request for Feedback, Update on Injured WWE Diva