A former collegiate football standout, Leati Joseph "Joe" Anoa'i performs for WWE as a terrorizing member of The Shield alongside Dean Ambrose and Seth Rollins as Roman Reigns. At six-foot three inches and a rock-solid 265 pounds, Reigns boasts the physical stature, along with the looks to which WWE officials are instinctively drawn in both male and female performers. He is the son of WWE Hall of Famer Sika of The Wild Samoans and is a member of the legendary Anoa'i wrestling family - this incredible lineage includes intimidating behemothes such as Yokozuna, Umaga, Rikishi and Rosey. (Continue Reading ») | (Who Is Roman Reigns' Fiancee?) | (Photo Gallery)

ROMAN REIGNS FEATURES
Before he donned his first pair of wrestling boots, Reigns had tried and failed to make it in professional football. After playing four years at Georgia Tech, he was signed but quickly dropped by the Minnesota Vikings and Jacksonville Jaguars between May and August 2007. He did play a handful of games for the Edmonton Eskimos of the Canadian Football League (CFL) in 2008, but was again cut in November of that year.
Football had been Anoa'i's first career choice. However, as the son of WWE Hall of Fame Sika and relative of other wrestlers, the squared circle was a back-up plan, just in the case. Every wrestling savvy member of the family recognized that he had the most important quality any WWE Superstar can possess - "the look."
His football career over, Anoa'i began training for professional wrestling. He lost weight (as a defensive tackle, he weighed as much as 325 pounds) and began tightening his physique.
WWE, which had been aware of Anoa'i for years, didn't require any arm-twisting to sign him to a developmental contract in July 2010. On September 9, 2010, Anoa'i made his debut in Florida Championship Wrestling, the then-developmental promotion of WWE, under the name Roman Leakee - he lost to Richie Steamboat. Additional losses to Wes Brisco and the future Damien Sandow (then known as Idol Stevens) ensued, before he gained his first victory on September 21, 2010 over Fahd Rakman. Leakee continued wrestling in Florida Championship Wrestling throughout the remainder of 2010 as he largely competed in tag team affairs. On the January 16, 2011 edition of FCW Wrestling, Leakee participated in a 30-Man Grand Royal to earn a shot at the FCW Florida Heavyweight Championship held by Mason Ryan - he was eliminated. Later that year, Leakee aligned himself with Donny Marlow and the duo unsuccessfully challenged Big E Langston and Calvin Raines for the Florida Tag Team Championship on July 8.
On the February 5, 2012 episode of FCW Wrestling, the three men who would become The Shield collided in a Triple Threat Match to name the number one contender to the then-FCW Florida Heavyweight Champion Leo Kruger (now known as Adam Rose). Leakee, as Anoa'i was simply known, defeated Dean Ambrose and Seth Rollins. The physiques of all three have changed considerably since this match was held. Leakee lost the following week to Kruger. On June 15, 2012 at a Florida Championship Wrestling live event in Palatka, Florida, Leakee and Mike Dalton captured the FCW Florida Tag Team Championship from Corey Graves and Jake Carter. The reign, however, was short-lived as the duo lost the championship the following month to CJ Parker and Jason Jordan.
In September 2012, Anoa'i was renamed Roman Reigns and hyped as a wrestler with the "it factor." That was an exaggeration. He looked the part before he crushed CJ Parker in his WWE NXT debut on October 31, 2012, but was mediocre in the ring and flat on promos. He did not seem ready for the main stage, even after two years in WWE's developmental system. From his physical appearance, however, it was obvious he would receive a chance at WWE glory: equipped with "the look," Reigns was a safer bet for stardom than Ambrose or Rollins.
In a surprising turn of events, Reigns officially debuted for WWE alongside Ambrose and Rollins on November 18, 2012 during the closing moments of the main event at Survivor Series. Running in, wearing matching black outfits, the heel trio powerbombed Ryback through the announcers' table after the former Skip Sheffield had Shell Shocked John Cena in the ring. The third man in this Triple Threat Match with Ryback and Cena was WWE Champion CM Punk, who pinned Cena amid the chaos to retain the gold.
As a unit, they meshed immediately. Their victory over Ryback and Team Hell No (Kane and Daniel Bryan) in a Tables, Ladders, and Chairs Match at the following month's TLC: Tables, Ladders & Chairs pay-per-view event - their debut match as a unit - was incredible. The weaknesses visible in Reigns' singles outings on WWE NXT were concealed by the salvo of movement and props: it was the adroit Ambrose and Rolins who kept things moving, and steered Reigns. When the gang communicated with the public, it was the articulate Ambrose who did most of the talking. As one of three, Reigns always had a safety talk. To his credit, though, he took direction well and never embarrassed himself.
In the start/stop era, these three were a welcome exception. Green never turned red: WWE was dedicated to their push.
As a three-man squad, the scored victories over star teams at Elimination Chamber on February 17, 2013 (John Cena, Ryback and Sheamus) and WrestleMania 29 (Big Show, Randy Orton and Sheamus). On the April 26, 2013 episode of SmackDown taped in London, England, they destroyed The Undertaker and blasted him through a table with their now-familiar three-man powerbomb. "The Deadman" didn't appear at another WWE event all year, something for which The Shield members were periodically given credit by the announcers.
At Extreme Rules on May 19, 2013, Reigns and Rollins defeated Kane and Bryan to capture the WWE Tag Team Championship. Even after The Shield lost a blinding Six-Man Tag Team Match to Orton, Kane and Bryan on the June 14, 2013 episode of SmackDown - their first official defeat by pinfall or submission as a triumvirate - they were reheated at WWE Payback two days later when Ambrose beat Kane by count out, and Rollins and Reigns defeated Bryan and Orton when Rollins pinned Bryan.
Reigns and Rollins were also supplied with an excuse when they dropped the WWE Tag Team Championship to Cody Rhodes and Goldust on October 14, 2013; Big Show interfered just prior to the finish. For newcomers, and heel youngsters at that, the presentation was in stark contrast to every other fresh act in WWE this decade.
| | | |
| --- | --- | --- |
| | Roman Reigns is Triple H's "guy" | |
Although Triple H and Vince McMahon are alike in many ways, their philosophy in wrestling greatly differs.
With Triple H gearing up to take over WWE one day, he wants to go ahead and put his stamp on the product with "his guys" and presenting it in a more serious manner with more focus on wrestling - Triple H was very much against Stephanie McMahon vomiting on Vickie Guerrero and El Torito having his tail ripped off. Vince on the other hand prefers to keep things as they have always been with his brand of campy entertainment and featuring wrestlers who aren't around regularly in the very top roles. So it should come as no surprise that the two executives are butting heads over the main event of next year's WrestleMania in Santa Clara, California.
For WrestleMania 31, Vince wants to continue relying on past stars whereas Triple H wants to focus on the future. It is said that Vince has his heart set on bringing The Rock back for WrestleMania and having him face Brock Lesnar, who may be WWE World Heavyweight Champion at that point. Triple H, however, wants Lesnar to take on Roman Reigns, which would likely culminate with Reigns being crowned the new WWE World Heavyweight Champion, as well as their new young golden boy. Vince, who doesn't take to newer guys so easily, is still a bit gun-shy on making Reigns "the guy."
As has been reported, Vince is still "in charge" of how WWE is run, even if you would assume his influence is decreasing as Triple H takes over. This odd power-sharing situation is causing increasing confusion, with certain wrestlers being pushed, then falling down the card suddenly. Some of these frustrating 'Start-and-Stop' pushes can be attributed to Triple H and Vince's differing views on wrestlers.
Dave Meltzer recently mentioned in the Wrestling Observer Newsletter that many people in WWE aren't sure who is supposed to have the final word: "It's been noted to us what an impossible position Paul Levesque has been put in when it comes to talent relations, because Vince McMahon is still the guy making all the final calls, and he changes his mind frequently. It's become a big frustration of talent that they are told a certain direction by Levesque, and then Levesque is put in the position of having to get with the talent again and explain that what he told them before isn't happening."

Latest Updates
| | | |
| --- | --- | --- |
| | Roman Reigns takes on Randy Orton tonight at SummerSlam | |
Roman Reigns spoke out to Crave Online and was asked whether he's ready to be WWE's next "guy" and carry the company on his shoulders.
"Absolutely, man! You don't sign up for this job to be on the under card. I'm not trying to open shows. I'm trying to close them," he says. "For me, I'm all about trial by fire. The way I learned how to swim, my dad picked me up by my hair, through me in the deep end. I touched the bottom, I started kicking and screaming, scratching, and clawing until I finally found air. If I can do that at 4 years old, I can handle it as a 29 year old."
Tonight at SummerSlam, Reigns will take on Randy Orton. He says fans can expect "a lot of heavy hitting" in the contest.
"The plan is to hit hard and more often and just to tear the house down," remarked Reigns. "You can say a lot about Randy Orton but he's a multi-time champion and one hell of a performer. When he's on; he's on. When The Viper is in the ring, you got to be careful cause he can strike. But let him strike first, I'll be the one to strike last."
For the match, Reigns will debut a new vest. He also has plans to overhaul it by WrestleMania 31.
"What I'm wearing for Summer Slam, I'm pretty excited about. Its kind of the same template of vest. It's just a different set up," said Reigns. "Probably by Wrestlemania, I'll debut a whole different type of vest. It's really cool to have cool gear."
Sting isn't the only star who wants The Undertaker as Reigns considers going one-on-one with "The Deadman" his "dream match."
"If you hear all the stories of him, man, he's like a godfather or something. You know what I mean?" said Reigns. "You hear all of these really cool things about him out in the ring, in the back, and just with the boys and stuff. He legitimately doesn't get enough credit for being a cornerstone of this business. That would be a dream come true to be in the ring with him."
During the SummerSlam Panel on Saturday where the WWE 2K15 roster was revealed, Reigns was asked who he would want to face at WrestleMania, and without hesitation, he said that he would love to take on The Undertaker.
Elsewhere in the interview, Reigns talks family, football, The Shield, how he prepares for a match and more.

Latest Updates
| | | |
| --- | --- | --- |
| | Was arrested just prior to joining WWE | |
When a professional wrestler becomes popular, often times fans will try to get to know as much about the individual as possible. So with Roman Reigns' surging popularity in WWE, a lot of fans have discovered that he was once arrested.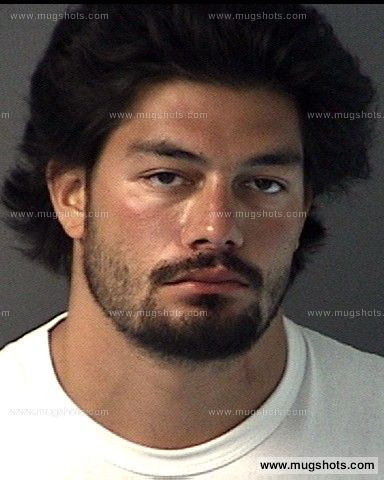 The incident in question occurred on June 20, 2010 in the Pensacola, Florida area, just a few weeks prior to the former collegiate football standout signing a developmental contract with WWE. Reigns, who was 25-years-old at the time, was arrested for disorderly intoxication and affray, unlawful assembly, or riot, according to a public record. In other words, he was arrested for appearing drunk in public and taking part in a fight. He was released on $1,000 bond, with charges of $500 for each offence.
Word of his arrest did not become public knowledge until last year when his mugshot was uploaded on MugShots.com, with it also being noted that he is WWE Superstar Roman Reigns. It remains unclear whether WWE officials ever found out his infraction.
| | | |
| --- | --- | --- |
| | Roman Reigns and his college sweetheart have a daughter together | |
With Roman Reigns' rapidly escalating notoriety due to his WWE fame, this has led many grappling fans to search for personal information on the 29-year-old former football player, such as whether or not he has a girlfriend. The Shield star is engaged to a women named Jessica - the couple have been dating since the two attended college at Georgia Tech. Together, they have a six-year-old daughter who was born in 2008.
Here is Reigns' girlfriend and daughter at Tuesday's SmackDown taping in Orlando, Florida.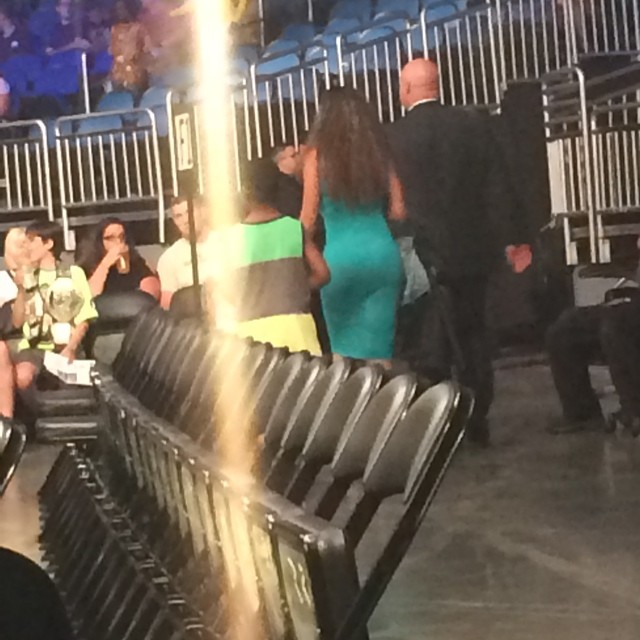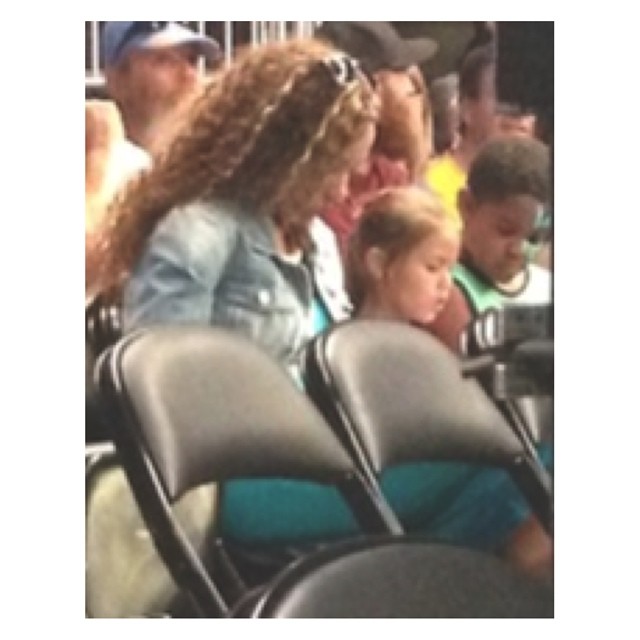 The former WWE Tag Team Champion recently introduced Jessica to the public eye as he attended the 2014 WWE Hall of Fame Induction Ceremony during WrestleMania XXX weekend in New Orleans, Louisiana with his college sweetheart seated beside him.

Latest Updates