Lilian Garcia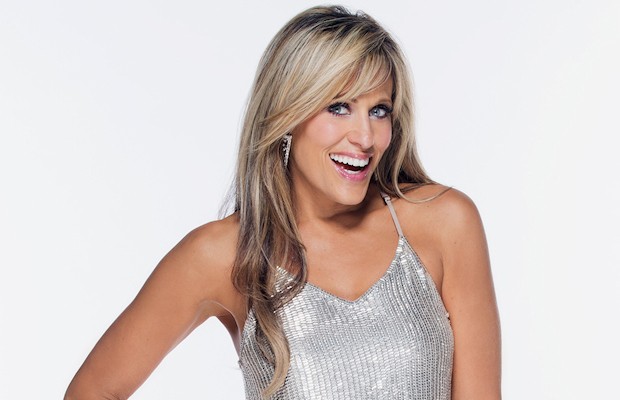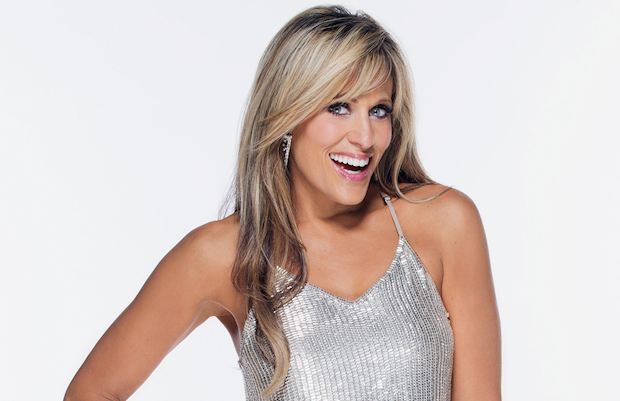 Lilian Garcia has done the ring announcing for some of the most historic matches in the history of professional wrestling. Along the way, her melodious tone has become synonymous with the success of WWE's flagship program, Monday Night Raw.
20 Hot Photos Of Lilian Garcia In A Bikini →
Lilian Garcia does more than just announce the names of the WWE Superstars as they come down the ramp; she also poses in bikinis! Check out 20 of the hottest bikini shots of Lilian…
Lilian Garcia's Skirt Gets Ripped Off On Monday Night Raw →
Lilian Garcia appeared embarrassed on an April 2007 episode of Monday Night Raw when her skirt got ripped off by Bobby Lashley in the middle of the ring. Check out the hot video…
Lilian Garcia Has A Big Bush? →
Lilian Garcia has a big bush? While playing word association during a shoot interview back in 2010, former WWE star Sean "X-Pac" Waltman claimed that Lilian Garcia has a big bush…
The Hottest Photos Of Lilian Garcia →
Lilian Garcia is definitely not shy about showing off her amazing body! Check out the hottest photos of the sexy songstress and former ring announcer from over the years…
Lilian Garcia's Hottest Instagram Photos →
As the longtime voice of WWE, Lilian Garcia knows how to bring the heat in the ring … and on Instagram. We've gathered 20 of her hottest social media shots that you need to see…
See All Lilian Garcia Photos →
Lilian Garcia on PWPIX.net, your go-to source for the best photos of the longtime voice of WWE…
Would Lilian Garcia Pose For Playboy? →
What does Lilian Garcia think about posing for Playboy? The sexy songstress was once asked in an interview whether her fame from wrestling had led to an offer from Playboy and she said…
Who Is Lilian Garcia's Husband? →
One week after bidding farewell to wrestling fans, Lilian Garcia married her current husband…
How Did Lilian Garcia Look Like When She Was A Teenager? →
Two years after her sister won the Miss South Carolina Pageant in 1983, Lilian Garcia vied for the crown herself. How did she look like back then? See this rare photo of Lilian as a teenager…
Booty Shot Of Lilian Garcia At Hell in a Cell 2015 →
Wow! Check out this sexy shot of Lilian Garcia from behind at WWE's Hell in a Cell in 2015…
How Old Is Lilian Garcia? →
As hard as it is to believe, but Lilian Garcia is 50-years-old! Her widely listed birth date is…
The Rock Electrifies Lilian Garcia With The People's Strudel →
Here's what "The Most Electrifying Man in Sports Entertainment" said to Lilian Garcia in one of his frequent attempts to make the ring announcer blush. "Whoa-whoa-whoa-whoa-whoa. Lilian…
Latest Lilian Garcia News →
Lilian Garcia on PWPIX.net, your go-to source for the latest news on the former ring announcer…
About Lilian Garcia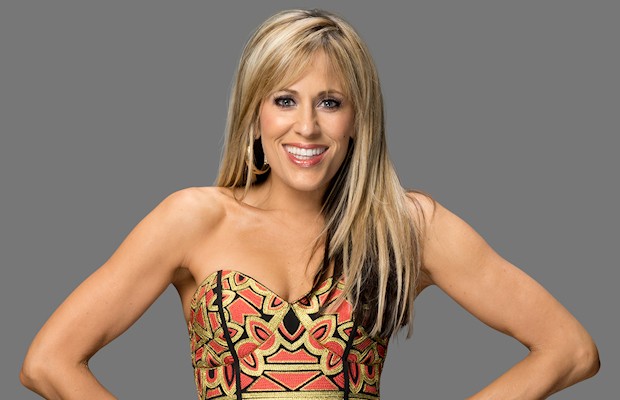 If Lilian Garcia is announcing your name, you know you have made it to the big leagues of professional wrestling. As the ring announcer and host of Monday Night Raw, her heavenly vocal cords have accompanied WWE Superstars to the squared circle since 1999. She has explained match stipulations, introduced new title holders and welcomed fans to the arena more times than she can remember.
In addition to ring announcing for WWE, Lilian is an accomplished vocalist. When she sang America the Beautiful at WrestleMania 2000 at the Arrowhead Pond in Anaheim, California, it was the first time many WWE fans discovered her B-flats and C-sharps. Prior to most Raw broadcasts from 2000 until 2009, the beautiful songstress showed off her talents with an emotional and heartfelt rendition of The Star-Spangled Banner. She has also opened up for many professional sports teams, including the National Football League's New York Jets, Major League Baseball's Chicago Cubs, and the Phoenix Suns of the National Basketball Association. The popularity of her amazing voice ultimately led to the production of her own album, ¡Quiero Vivir!, which was released on October 9, 2007, via Universal Music Latino.
Her most revered memories, though, are of singing America the Beautiful. In addition to singing at WrestleMania on three occasions (Lilian sang in 2000, 2005 and 2012), she belted out an emotional rendition on the first episode of SmackDown following the September 11 attacks. Lilian's beautiful performance of the United States national anthem helped WWE to rally suffering citizens. She always empties her heart into her singing, but there was something extra special in her voice on that memorable night in Houston, Texas.
Being as talented and beautiful as Lilian is, it was only a matter of time before a WWE Superstar made a pass at her. In May 2005, the inevitable occurred when the mighty Viscera proclaimed his love for the sexy ring announcer. On the surface, Garcia and the wrestler formerly known as Mabel didn't look like the prototypical couple; but inside, they shared a deep connection. Or so Lilian thought. The following month, a smitten Lilian proposed marriage to her man during WWE's Vengeance pay-per-view event. Unfortunately for Lilian, she was ultimately heartbroken when he chose to be with The Godfather's "Hos" rather than marry her.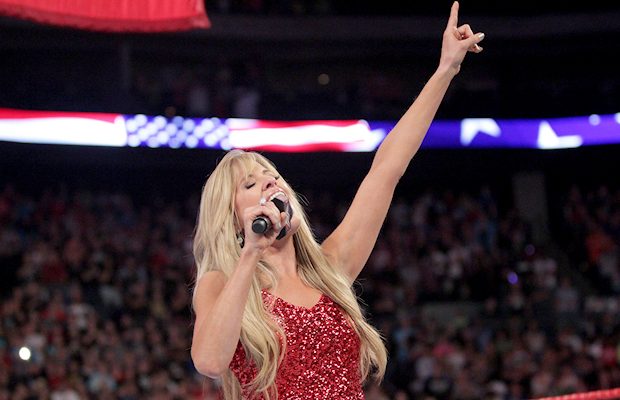 Prior to joining Vince McMahon's organization, Lilian appeared in television commercials. From department stores to car dealerships, she made use of her Media Arts degree from the University of South Carolina. When she was doing a jingle here and a jangle there, Lilian also found time to work as a VJ in Atlanta, Georgia. It was that experience that led the beautiful songstress to audition for WWE, albeit hesitantly.
"I had no idea what I was walking into, and I almost didn't do the audition. I was called to New York to audition, and I looked at him and said 'Are you kidding me … wrestling?'" Lilian recalled in a 2010 interview. "He didn't tell me what it was for because the WWE didn't tell him. I auditioned for a backstage interviewer for Super Astros, which was going to be on Univision, but I didn't get it. It wasn't until six months later that I got another callback, and they remembered me, and they needed people for SmackDown before it premiered. I auditioned again, and they called me, and they wanted to try me on for one to three months, and that I could leave at any time, and I was thinking I had nothing to lose … I'll try it out."
Following a remarkable 10-year career with WWE, Lilian emotionally bid farewell to fans on the September 21, 2009, episode of Raw. Thankfully, this turned out to be a two-year sabbatical and her angelic voice returned to WWE airwaves on SmackDown and once again, Raw.
"No matter which show I'm on it makes me really happy to have the opportunity to announce for the WWE Universe," said Garcia. "I wish to thank all our fans for all for their love and support through all these years!"
All's not that rosy, however. Despite her extensive background of performing in front of crowds, Lilian still has one obstacle to overcome: butterflies.
Asked what she does to handle this before getting on the microphone, she laughingly says, "I always pray, I'm Catholic, so I make the sign of the cross. There's so much going on that you always have to be on your toes."
Lilian Garcia Rocks WWE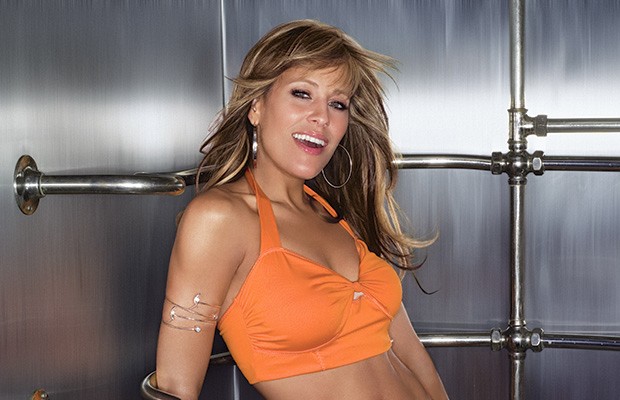 Lilian Garcia began her career in WWE in 1999 — the sports-entertainment organization was then known as the World Wrestling Federation, or WWF — when she was hired for the role of a ring announcer. She made her first appearance on August 23, 1999, on Raw Is War from Ames, Iowa.
Garcia was involved in her first angle on Raw Is War on September 13, 1999, as an irate Jeff Jarrett applied a Figure-Four Leglock to the blonde beauty for announcing that he lost to Luna Vachon via disqualification. The humiliation would continue on Raw Is War on December 13, 1999. After introducing Miss Kitty for a WWF Women's Championship Match in a pool of chocolate pudding, the titlist snatched the microphone from Garcia to tell her that she was now known as The Kat. Moments after the contest began, X-Pac showed up in a diving suit complete with flippers, a snorkel, and goggles. While the D-Generation X member was adjusting his goggles, Tori jumped on his back causing both of them to fall into the pool. With X-Pac landing on top of Tori, this allowed Miss Kitty to score an easy pinfall victory. Garcia announced the winner as Miss Kitty, infuriating the WWF Women's Champion. In response, The Kat shoved Garcia into the pool of chocolate pudding. The lovely ring announcer was not pleased.
While high school classmates and teachers of Garcia knew she could sing, it wasn't until Dwayne "The Rock" Johnson found out about her amazing talent that her singing career began to blossom.
"The Rock likes to sing, too, and he found out I could sing," Garcia revealed in an interview with the Miami Herald in 2011.
"I was talking to him one day, and the national anthem came up as a subject. I said, 'Yeah, I sang the national anthem at my high school graduation.' There was 600 people in the auditorium. I was in drama in high school, and I always sang in high school. So people there knew me as a singer.
"So he goes, 'Wow. We actually play the national anthem [at house shows]; it's always an instrumental [recording] that plays, before we go out.' He goes, 'I'm going to talk to the agent, and we should get you to sing the national anthem.'
"It was February 11, 2000, and I was doing my first live event [house show] because I had only done Raw, and we were in Denver. Rock mentioned it to one of the agents, and they had me sing it there that night. It went over so well that the agent had me do it that whole weekend — Friday, Saturday, Sunday.
"By Monday morning, Vince McMahon heard about it, and he mentioned it at the meeting. He said, 'So I hear that someone took the house down and can sing. I've got to see it for myself. So I want you to sing it tonight.' It was in San Jose for Raw on February 14 on Valentine's Day 2000, and I sang it ever since."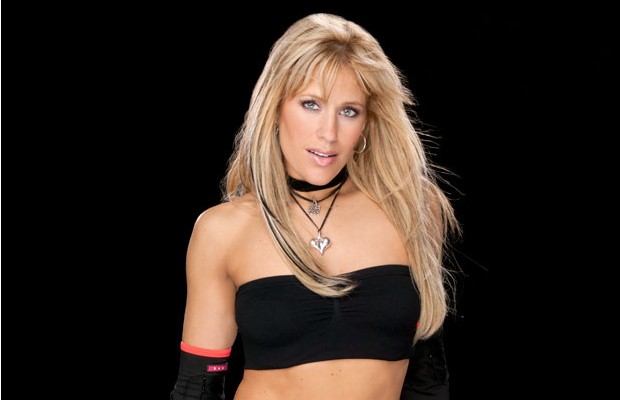 Garcia's first televised performance took place on April 2, 2000, where she opened WrestleMania 2000 with America the Beautiful. Two days after the tragic events of 9/11, Garcia sang The Star-Spangled Banner during a live episode of SmackDown! from Houston, Texas.
"I got asked to do the national anthem and at first I was like, "Oh my gosh. How am I going to get through this?" No music, no nothing, because [Vince McMahon] wanted it a cappella. I said to myself, "This is bigger than me. I have an obligation. I have to do this," Garcia said in 2013 in an interview with WWE.com recalling the event. "When you hear that recording, you can hear my voice quivering and how emotional I was. I ended up crying at the end because I was trying to keep everything together during the performance."
García briefly feuded with fellow ring announcer Howard Finkel in August 2002 — the WWF (World Wrestling Federation) was now known as WWE (World Wrestling Entertainment) — after the WWE Hall of Famer allowed the beautiful songstress to be decimated by Jamal and Rosey of 3-Minute Warning. On Raw on August 26, 2002, Garcia and Finkel wrestled in an Evening Gown vs. Tuxedo Match to be the permanent announcer of the show. Garcia came out on top with the assistance of Trish Stratus and Stacy Keibler.
Being as stunning as Garcia is, it was only a matter of time before a WWE Superstar made a pass at her. In May 2005, the inevitable occurred when the gargantuan Viscera proclaimed his love for the beautiful WWE Diva. On the surface, Garcia and "Big Vis" didn't look like the prototypical couple; but inside, they shared a deep connection. Or so Garcia thought. A smitten Garcia proposed marriage to the wrestler formerly known as Mabel during WWE's Vengeance pay-per-view event on June 26, 2005. Unfortunately for Garcia, she was ultimately heartbroken when he chose to be with The Godfather's "Hos" rather than marry her.
"Do you know what it took to publicly ask Viscera to marry me? I don't understand," Garcia said to Maria in a backstage interview. "He was always so loving and caring and compassionate. I mean we couldn't do the normal things that couples could do in bed 'cuz I always had to be on (cuts herself off crying)."
The storyline was briefly resurrected the following year when Viscera proposed to Garcia on Raw on May 22, 2006. The two, however, were interrupted by Umaga before Garcia could give her answer.
Garcia legitimately suffered a sprained wrist on June 5, 2006, on Raw when Charlie Haas inadvertently knocked her to the ground as she was leaving the ring. WWE's creative writers metamorphosed the accident into a storyline, leading Haas to incur the wrath of Viscera the following week on Raw. The angle reached its conclusion on Raw on July 10, 2006, when Viscera accidentally slammed Garcia with a Samoan Drop after being temporarily blinded by Haas, who had raked him across the face. Garcia laid motionless in the ring and had to be stretchered out. She missed Raw the following week in order to sell the devastating effect of the maneuver.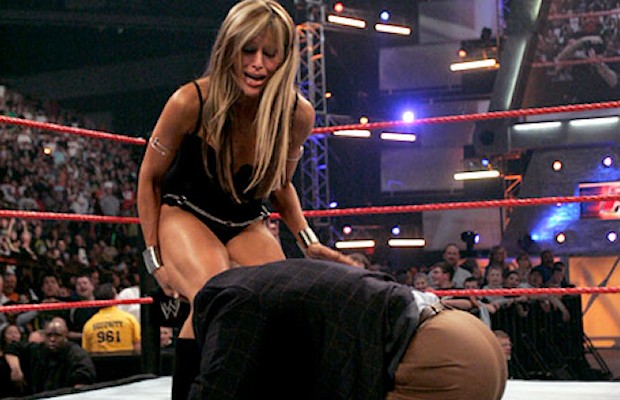 On Monday Night Raw on April 2, 2007, Garcia was humiliated when ECW World Heavyweight Champion Bobby Lashley ripped off her blue satin frilled skirt the middle of the ring to expose her panties to the live audience and the millions watching at home. WWE Chairman and CEO Vince McMahon, portraying his not so dissimilar from his alter ego McMahon, had attempted to hide his newly shaven bald head in between her legs and underneath her skirt. The event caused a huge surge of searches for the WWE Diva online, with searches for "Lilian Garcia" jumping 301% and becoming the fourth most searched-for term on Yahoo.com that day.
Following the event, Garcia took time off from WWE to recover from a torn ACL in her right knee, which she suffered in March while skiing in Killington, Vermont. She resumed her ring announcing duties on Raw on July 2, 2007, but was not fully recovered. Midway through the show, Garcia could only announce from the floor due to pain from entering the ring.
On Raw on August 6, 2007, WWE began promoting the release of Garcia's first album, ¡Quiero Vivir!, by having Jillian Hall mock the lovely ring announcer prior to a match against Mickie James. Despite the audience's pleas to hear Garcia preview a song from her album, Hall went on to give her ear-splitting rendition of a Britney Spears song. Following Hall's victory, the pop star wannabe stared down Garcia, who stared back uneasily from ringside. On the following week's show, Garcia competed on WWE Idol, WWE's version of American Idol. The songstress graced the audience with her rendition of hometown favorite "New York, New York" until she was interrupted by Santino Marella.
Following a remarkable decade-long career with WWE, Garcia emotionally bid farewell to fans on Raw on September 21, 2009, from Little Rock, Arkansas. After Jerry "The King" Lawler announced to the audience that it was her final night in WWE, Garcia thanked members of the WWE Universe for their tremendous support through the years. She then announced her final contest, which saw WWE Champion John Cena, MVP, and Mark Henry take on Randy Orton and Unified Tag Team Champions Chris Jericho and Big Show. It was not her final television appearance as prior to Raw, she announced a match between Chris Masters and Primo that aired three days later on WWE Superstars.
The songstress later revealed that she left the sports-entertainment organization due to burnout from the grueling travel schedule, as well as her desire to spend more time with her family.
"Leaving the WWE was one of the hardest decisions I had to make because I was very close to everyone there and loved my job, but after 10-plus years of being on the road it was time to take a break," Garcia said in a 2010 interview with Monday Night Mayhem. "I really missed being away from my family, and that was one of the decisions I made. When my contract was up, I was like do I sign on for a new contract, or do I really want to take the time to be with my family and my new husband, and I just made that decision that it was time."
Garcia didn't stay away long as she made a surprise appearance at a WWE event on November 16, 2009, at Madison Square Garden. Prior to that evening's Raw telecast, she sang The Star-Spangled Banner for the live audience. Garcia filled in for ring announcer Justin Roberts on Raw on April 19, 2010, who was stranded in Belfast, Ireland with other WWE performers and personnel due to the volcanic eruptions of Eyjafjallajökull. Her special appearance caused a surge in online searches for the sexy songstress, with "Lilian Garcia" placing among the most searched-for terms on Google over the next 24 hours.
Following a two-year hiatus, Garcia permanently returned to WWE in December 2011. After serving as the ring announcer for SmackDown for three years, Garcia returned to Monday Night Raw on October 20, 2014.
For Your Information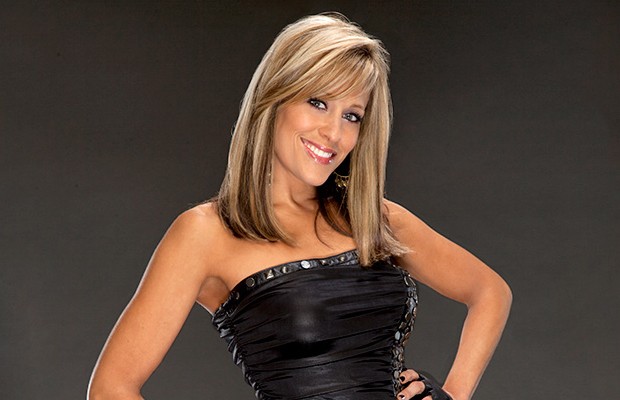 As is often the case with WWE's slate of female talent, fans will flock online to see if there are any nude photos floating around. That is the case with Lilian Garcia, the longtime ring announcer of Monday Night Raw. Internet searches for nude photos of Lilian are among the most searched for subjects on the beautiful songstress. Lilian, however, has never posed nude, so the search is futile.
She was asked in a 2001 interview whether her fame in WWE had led to an offer to pose for Playboy, and replied, "No, not at all." After the interviewer said he was surprised, she explained, "I'm not, and I'll tell you why. My image with the WWF is very sexy but classy. Not that the other girls aren't classy, but I'm just not willing to show as much flesh as the other girls are willing to do. That's their thing. That's fine for them if they choose to show a little bit more cleavage. I mean, I'm sure there are people who are offended that I'm wearing a miniskirt. But for me, a miniskirt is fine. But I'm sure the people at Playboy know not to even bother asking. It's just not right for me."
You may find this hard to believe, but Lilian Garcia is 50-years-old!
Her widely listed birth date of August 19, 1973, is inaccurate as the former WWE ring announcer was legitimately born on August 19, 1966.
Shortly after Garcia returned to WWE in December 2011, Wrestling Observer Newsletter editor Dave Meltzer reported that she was 45-years-old. Additionally, there is a newspaper story online from 1983 on her older sister Dalia Garcia being crowned Miss South Carolina that year and it is mentioned that Lilian is 16-years-old and aspiring to follow in her footsteps — she was a finalist in the Miss South Carolina Pageant in 1985.
Garcia was a 32-year-old singer in New York City when she auditioned for a television role with WWE — then known as the World Wrestling Federation, or WWF — in 1999 at the advice of her agent.
One week after bidding farewell to WWE, Lilian Garcia married her current husband, Christopher Jozeph, a Canadian-born Men's Contemporary Fashion Designer and Celebrity Wardrobe Stylist, on September 28, 2009 in Orlando, Florida at Walt Disney World Resort. Garcia was previously married but divorced a few years prior.
In a 2010 interview with Monday Night Mayhem, Garcia attributed her decision to leave WWE in order to spend more time with her husband and family.
"When my contract was up, I was like do I sign on for a new contract, or do I really want to take the time to be with my family and my new husband, and I just made that decision that it was time," she said.
They live together near the sunny beaches of Los Angeles, California.
Lilian Garcia has kissed Christy Hemme, Viscera, Charlie Haas and The Great Khali on WWE television … Lilian Garcia loves her legs. She once said, "My favorite part body part on myself is my legs because man, I love to wear them boots!" … It has been stated on multiple websites that Lilian Garcia earned $90,000 from WWE in 2005. Her salary, however, has never been confirmed.