Stephanie McMahon Photos You Need To See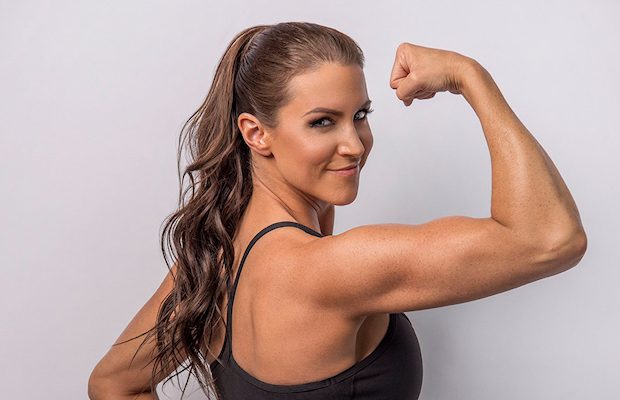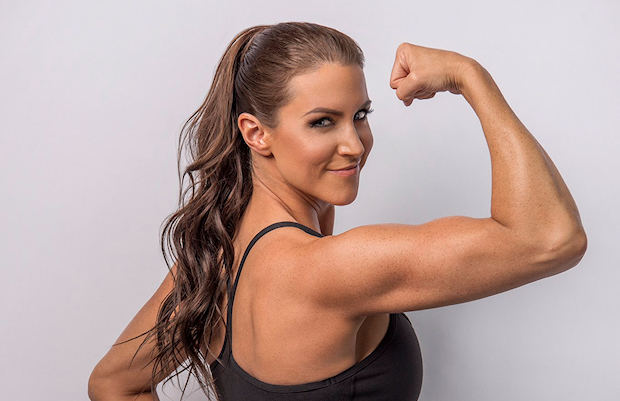 Check out Stephanie McMahon from a whole different angle in this amazing photo gallery of one of the principal owners of WWE…
Stephanie McMahon was born into WWE royalty.
Growing up, her dad's influential ways inspired her to share his passion for WWE. As Vince McMahon transformed the company into a global juggernaut, he passed along his determination and acumen to his only daughter. Today, Stephanie defies the notion that professional wrestling is a "man's world." As a woman firmly in charge, she shatters this stereotype in and out of the squared circle.
By day, she makes executive strategies at WWE's headquarters in Stamford, Connecticut. By night, she makes egotistical, muscle-bound tough guys cower as the Commissioner of Monday Night Raw. Stephanie plans to leave a mark and create a path for those who dare to follow. Keeping a close eye on today's Superstars, she works relentlessly in laying the foundation for the next era of WWE.
Though Stephanie's actions may not always be popular, they are always "Best for Business" — not to mention "Breast for Business." Here are photos of the WWE executive you need to see.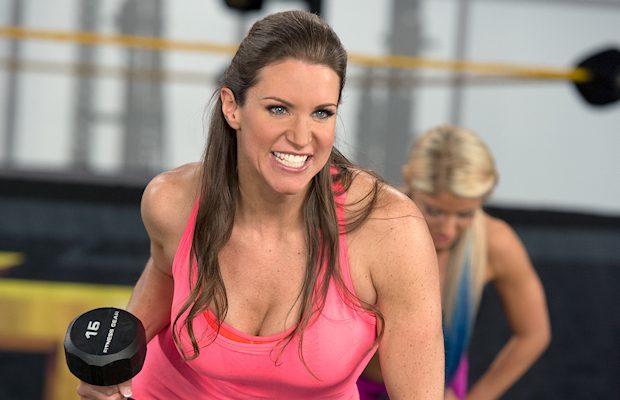 60 Amazing Photos Of Stephanie McMahon Showing Off Her Huge Boobs →
Stephanie McMahon is definitely not shy about showing off her large assets, and by assets we mean boobs. Check out these 60 amazing photos of the WWE exec showing them off…
Stephanie McMahon Bikini Photos →
Stephanie McMahon often keeps her figure hidden beneath a trademark business suit — here are photos finally revealing "The Billion Dollar Princess" in all her bikini glory…
20 Photos Of Stephanie McMahon's Booty You Need To See →
If there's one thing that many fans can agree on, it's that Stephanie McMahon has an amazing ass! While we often see Stephanie wear outfits which show off her nicely toned legs, you can see in these pics that she is packing some junk in the trunk…
Stephanie McMahon Accidentally Flashes Her Underwear →
Stephanie McMahon is very careful when entering the ring since some of her outfit choices can potentially expose her underwear … and it has. Check out these hot photos…
20 Sexy Must-See Photos Of Stephanie McMahon →
Stephanie McMahon proves why she is the hottest woman in WWE in these shots that show the sexy executive wearing very little, and leaving even less to the imagination…
Stephanie McMahon's Hottest Moments →
Stephanie McMahon is definitely not shy about showing off her amazing body! See the most revealing moments of Stephanie over the years, including a few wardrobe malfunctions…
Photos Of Stephanie McMahon Showing Off Her Cleavage At Award Show →
Stephanie McMahon lets the puppies loose! Check out these photos of WWE's Chief Brand Officer putting her boobs on display at the Sports Humanitarian of the Year Awards…
20 Photos Of Stephanie McMahon Showing Off Her Cleavage →
WWE fans have seen a lot of Stephanie McMahon's cleavage over the years. Whether she's showing it off in the middle of the ring or on the red carpet, Stephanie doesn't seem to mind. Here are some of the times you couldn't look away…
See All Stephanie McMahon Photos →
Stephanie on PWPIX.net, your go-to source for the best photos of the hot WWE executive…
There Are Nude Photos Of Stephanie McMahon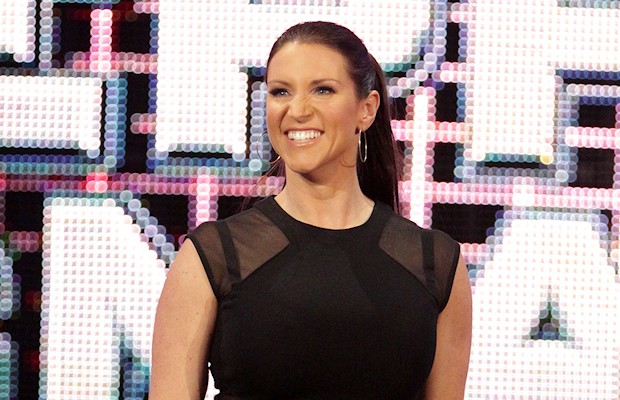 The prospect of seeing Stephanie McMahon nude is enough to send members of the WWE Universe into a head spin. Naturally, fans have long wondered whether the daughter of WWE Chairman and CEO Vince McMahon would follow in the footsteps of Chyna, Torrie Wilson, Sable, Christy Hemme, Candice Michelle, Maria and Ashley by shedding her clothes for Playboy. She has addressed the possibility.
During a chat session with fans in November 2002, Stephanie was asked whether she would ever pose for Playboy.
"I don't know, at this point in my life, probably not. But who knows in the future," Stephanie responded.
With Stephanie holding a high-ranking executive position in an organization committed to presenting a family-friendly, TV-PG product — she is WWE's Chief Brand Officer — that ship has almost certainly sailed. She was, however, complimentary of WWE's former partnership with the renowned publication.
"Anytime we can expand our reach outside of our audience in a place our audience is not normally found is a good thing for the WWE brand," Stephanie said in an interview published in the 2014 hardcover book WWE 50. "It brings new eyeballs onto our programming: it gets people interested. Sable and Chyna doing Playboy was one of those times because suddenly we were mainstream. We were competing in a space that we had never been in before."
Although Stephanie has yet to take part in a photo shoot involving nudity, that doesn't mean there aren't any nude photos and video of her floating around online. That's right! There are nude images of WWE's Chief Brand Officer online.
Early in her career as a performer for WWE, Stephanie suffered multiple wardrobe malfunctions resulting in the accidental exposure of intimate parts. Most infamously, Stephanie's breasts were embarrassingly put on display on more than one occasion in 2002 during the build-up towards the match between Chris Jericho and Triple H for the Undisputed WWF Championship at WrestleMania X8.
Stephanie was 25-years-old at the time and had gotten a boob job the previous summer, thereby making her already sizable chest even bigger. This proved problematic for her when she was about to be Pedigreed by Triple H (who was only her on-screen husband at the time) at a SmackDown taping on March 12, 2002 — the final television event before WrestleMania X8. As she bent over on top of a table to take the maneuver, the hefty weight of her boobs caused her to pop out of her cleavage-baring leather top (she wasn't wearing a bra). There Stephanie was in front of WWE fans with her breasts falling out and unable to do anything about it. While the unanticipated exposure of her chest was not shown on the taped television broadcast on UPN, uncensored satellite video of her boobs hanging out managed to surface on the Internet (as did a photo from a fan who was seated at ringside).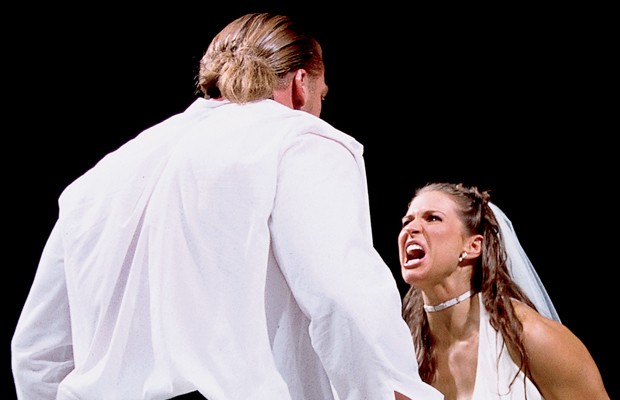 Stephanie addressed the subject in May 2016 while speaking to world-renowned strength and conditioning coach Joe DeFranco on the Industrial Strength Show. When asked to name her most embarrassing in-ring moment, she said, "That would be when I had a wardrobe malfunction."
Stephanie recalled, "We were on top of the announce table I think and [Triple H] went to put me in the Pedigree and I was wearing something that was apparently too low-cut — even though I was taped in. So in the Pedigree you're bent over and both arms are tied behind your back, and I am now looking at my own breasts that are exposed. And my arms are pinned behind my back, so there's absolutely nothing I can do except stare at myself and think about how mortified I was in that given moment. Thank God that social media didn't exist back then!"
She continued, "Although Howard Stern did somehow have a picture of it. So when I did his interview on [The Howard Stern Show] he brought that up. It lives somewhere. Now people [will] probably go look for it. Awesome."
Stephanie touched on the subject again in July 2016 while answering fan questions on Facebook Live. When asked to name her most embarrassing moment on TV, she said, "Absolutely when I had a wardrobe malfunction."
Stephanie again recalled, "So Hunter and I were at odds in the storyline and as a result, he was going to give me a Pedigree. So I was bent over, and I don't know that I should be demonstrating. So he pins one arm behind my back and one malfunction happened. Then he pinned the other arm behind my back, the other malfunction happened, and I'm now looking down at myself in full view. I'm bent over, so it's not like everyone saw or anything. There was one fan that somehow got a picture — sure it's going to surface — actually, I've seen it surface so I know that it lives."
She continued, "And Howard Stern was nice enough to point it out when I did his show. And the other guest on that show at the time was Dave Chappelle, so that was like really awesome, fun experience. But yeah, of course, Howard threw to the image and yeah, that had to have been my most embarrassing moment on TV, for sure."
Stephanie's other wardrobe malfunction took place a few weeks earlier. After she lied to Triple H about being pregnant to avoid a divorce, "The Game" found out about the ruse and wrecked their vow renewal ceremony. During this wild scene, which took place on Raw on February 11, 2002, Stephanie's boob was briefly exposed after she was shoved to the ring canvas by her infuriated husband. Stephanie was wearing a revealing wedding dress, but had gone braless.
Stephanie appeared on The Howard Stern Show later that year — October 17, 2002 — where she addressed her pair of embarrassing wardrobe malfunctions.
"It was really an accident. I was horrified," Stephanie said to Stern in response to whether these incidents were planned. "If I had planned to do something like that, that's one thing, but when it sorta happens and you're not planning on it, it's a little unnerving."
On the first Raw of 2001, Stephanie was scripted to suffer a wardrobe malfunction (with no nudity involved). During an in-ring segment with "Stone Cold" Steve Austin, Stephanie demanded that Austin get the beer tray off of her … and "The Rattlesnake" ripped off not only the beer tray, but also her blouse. Struggling to cover herself up, Stephanie ran to the backstage area in her bra while Austin celebrated in the ring.
Stephanie's ass was also exposed during the March 11, 2012, episode of Raw. Triple H, who was chasing Stephanie in the arena, accidentally exposed her butt when he caught her — he lifted up the backside of her pants. The episode was rebroadcast on WWE 24/7 On Demand with her ass digitized.
About Stephanie McMahon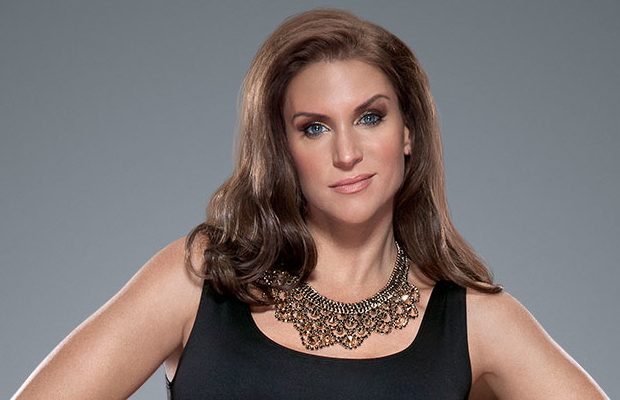 The only daughter of Vince McMahon has been bossing WWE's most powerful men around since she was old enough to form coherent sentences. As one of the principal owners of WWE and its Chief Brand Officer, however, Stephanie McMahon does a lot more than just bark orders. She's proven herself to be a force with which to be reckoned both in and out of the squared circle.
Born into the professional wrestling industry, Stephanie entered the family business at the age of 13 by modeling T-shirts and hats for the World Wrestling Federation (WWF) — what WWE was then known as —merchandise catalog. By the time the "Attitude Era" had taken the world by storm, the youngest McMahon was caught up in a feud between her father's Corporation and The Ministry of Darkness. She may have appeared overwhelmed at first, but within months of her debut, Stephanie had married her father's nemesis, Triple H, and orchestrated a takeover of the World Wrestling Federation. It immediately became obvious that the McMahon family gusto didn't just carry over to the Y chromosome.
Together, Triple H and Stephanie went on to become one of the most power-hungry couples in the history of wrestling. The husband-and-wife team kicked off a ruthless dictatorship that controlled all of the WWF. Abusing their power as much as possible, they were both conveniently placed in situations that would benefit them most. As a result, it wasn't long before Triple H had regained the WWF Championship, and Stephanie captured the Women's Championship.
Stephanie elevated the rivalry with her father to new heights in July 2001. After already breaking his heart in 1999, Stephanie revealed herself as the new owner of Extreme Championship Wrestling (ECW), which she merged with her brother's World Championship Wrestling (WCW) to form The Alliance. Stephanie and Shane's goal was simple: Put their dad and the World Wrestling Federation out of business forever. The Alliance began as a very serious threat to Mr. McMahon's empire, as many of his WWF Superstars jumped ship to Stephanie's camp, including "Stone Cold" Steve Austin, William Regal and her former love interest, Test. In the end, however, The Alliance was forced to disband in November 2001 when they were beaten by Team WWF at the Survivor Series.
With the loss, Stephanie was finally forced out of the World Wrestling Federation, or so it seemed. In January 2002, she crafted a faux pregnancy to weasel her way back into the WWF, alongside her husband, Triple H. Her plan eventually backfired, however, when "The Game" discovered the hoax. Following the emotional roller coaster, an incensed Triple H demanded a divorce from his scheming wife.
In July 2002, Stephanie returned to the company, which had been renamed WWE, when she took over the reigns of SmackDown. As the brand's General Manager, she acquired some of biggest names in professional wrestling, including Hulk Hogan, Undertaker and Brock Lesnar. She is also credited with creating the WWE Tag Team Championship and resurrecting the prestigious United States Championship. Stephanie's time in office came to a painful end in October 2003 when she lost an "I Quit" Match to her father at No Mercy.
Following the loss, Stephanie limited her public appearances in favor of assuming multiple executive roles behind the scenes. In 2013, Stephanie began appearing on WWE television more regularly under the character of an unctuous, judgmental, bullying owner alongside her husband, Triple H, who reigns as Chief Operating Officer. Together as a power couple known as The Authority, they make what are often shady decrees while claiming to only be concerned about "what's best for business," all the while romanticizing each other with public displays of affection.
Whether inside the ring or a boardroom, she's never at a loss for enthusiasm. WWE may be considered a man's world, but Stephanie continues to be a woman firmly in charge.