Undertaker
From darkness, he emerged to build a dynasty second to none. He is the "Deadman." He is the "Lord of Darkness." He is Undertaker. The mysterious Superstar from Death Valley was unveiled to WWE audiences at the 1990 Survivor Series. Over the next two decades, the "Deadman's" domination in the ring led to multiple World Championships, as well as an unblemished WrestleMania record. (Continue Reading ») | (Photo Gallery ») | (A Look At The Undertaker's Relationship With Michelle McCool ») | (Two Undertakers! ») | (Family Ties ») | (A Fresh Start ») | (The Deadman Returns ») | (The Streak Put In Jeopardy ») | (The End of an Era ») |

UNDERTAKER FEATURES
The first chapter in Undertaker's remarkable WrestleMania epic was penned on March 24, 1991 in Los Angeles, California. Under the tutelage of new manager Paul Bearer, the "Phenom" destroyed "Superfly" Jimmy Snuka. The victory marked his first WrestleMania win, and also catapulted the "Deadman" straight to main-event status.
Undertaker spent the next several months using caskets and the mysteriously powerful urn to exploit his opponents' fear of their own mortality. He tore through every WWF Superstar put in his path and on November 27, 1991 at the Joe Louis Arena in Detroit, Michigan, at the Survivor Series, he defeated Hulk Hogan to capture the WWF Championship. Ric Flair's interference in The Undertaker's WWF Championship victory ultimately caused President Jack Tunney to order a rematch at This Tuesday in Texas. Hogan wound up walking away from the event with the WWF Championship, but the controversial conclusion to the match caused Tunney to later vacate the title.
Following his WWF Championship reign, Undertaker faced a series of colossal competitors looking to rid the World Wrestling Federation of the "Deadman." The four-hundred pound "Ugandan Giant" Kamala nearly accomplished the task during the first-ever Coffin Match at the 1992 Survivor Series. Undertaker was able to avoid Kamala's offensive onslaught en route to picking up the ground-breaking victory. The following year, the "Phenom" toppled the near eight-foot Giant Gonzales at WrestleMania IX.
Many believed Undertaker had finally met his match when he squared off against WWF Champion Yokozuna at the 1994 Royal Rumble. The encounter saw Undertaker victimized by not only the mighty Yokozuna, but a posse of oversized wrestlers, including Bam Bam Bigelow and Diesel. Many assumed the defeat, which saw Undertaker stuffed into a ringside casket, meant the demise of the "Deadman." However, as Yokozuna's gang pushed the casket up the aisle, an eerie smoke began to fill the arena, followed by the familiar gong of Undertaker's entrance theme. "The Deadman" then appeared on the Titantron to proclaim, "I will not rest in peace."
Both "The Million Dollar Man" Ted DiBiase and Paul Bearer claimed to have found Undertaker in the summer of 1994. The two men agreed to have their Undertakers square off against each other at SummerSlam. In the end, Bearer's Undertaker proved to be the real "Phenom," defeating DiBiase's fake after striking him with three Tombstone Piledrivers.
Undertaker's disappearance in 1994 caused him to miss WrestleMania X, but his darkness dominance returned the following year when he defeated the massive King Kong Bundy in Hartford, Connecticut. The following year, he handily defeated Diesel.
Following his defeat of Diesel, Undertaker became the target of World Wrestling Federation newcomer Mankind. Their intense rivalry sparked the advent of two revolutionary match types, the Boiler Room Brawl and Buried Alive Match. It also marked the shocking end to one of the closet alliances of all-time when Paul Bearer clobbered Undertaker with his urn at the 1996 SummerSlam.
Despite losing his manager Mankind, Undertaker continued to post an impressive record, which earned him a WWF Championship opportunity against Sycho Sid at WrestleMania 13.
Following a skull-crushing Tombstone, the "Phenom" covered Sid to reclaim the title he lost more than five years earlier. The victory catapulted Undertaker back to the top of the professional wrestling world. He spent the next five months successfully defending the title against the likes of "Stone Cold" Steve Austin and Vader.
An errant steel chair shot at the hands of special referee Shawn Michaels allowed Bret "Hit Man" Hart to dethrone Undertaker at SummerSlam in 1997. Yearning for revenge, the "Deadman" shifted his focus from the WWF Championship scene to destroying HBK. After a series of inconclusive contests, the two wrestlers agreed to settle the score in the first-ever Hell in a Cell Match at Badd Blood. Once locked inside the satanic structure, Undertaker released all his frustrations on Michaels, but just when it appeared as though victory was certain, Undertaker came face to face with a familiar figure from the past that cost him the match: Kane.
In the months leading up to Kane's shocking debut, Paul Bearer, in an attempt to blackmail Undertaker, threatened to uncover a disturbing secret from the "Deadman's" past. When Undertaker refused to give in to the demands, Bearer finally revealed that the "Phenom" set fire to his family's funeral parlor twenty years earlier, killing his mother and father. Undertaker assumed his younger brother also perished in the fire. At Badd Blood, Undertaker's assumption proved to be dead wrong, as his disfigured sibling appeared from out of nowhere to attack him.
In the months following the shocking revelation, Undertaker refused to step in the ring with his flesh and blood. However, after Kane attempted to send him to a fiery grave at the 1998 Royal Rumble, Undertaker had no choice but to respond with force. The two brothers finally squared off at WrestleMania XIV. Undertaker won the emotional battle, but the war between the two was just heating up. Undertaker and Kane went on to engage in some of the most bitter battles ever seen, including two Inferno Matches.
In 1998, Undertaker adopted an even darker, more demonic demeanor. He also made the unpopular decision to reconcile with Paul Bearer to form the Ministry of Darkness. Claiming to serve a "higher power," Undertaker unleashed a never-before-seen assault on the entire World Wrestling Federation. Nobody was safe from Undertaker's wicked wrath, not even Vince McMahon's daughter Stephanie, who was abducted by the "Deadman." Luckily for Stephanie, "Stone Cold" Steve Austin rescued her from further torment. The heroics, however, landed Austin in WWF Championship defense against Undertaker the following month at Over the Edge.
Leaving his "Deadman" persona in the dust, Undertaker reemerged at Judgment Day riding a motorcycle. Recognized as the "American Bad Ass," the new Undertaker was equally imposing. Following an impressive victory over Triple H at WrestleMania X-Seven, Undertaker formed an alliance with Kane. Known as the Brothers of Destruction, the duo spent the next several months dominating the tag team scene.
More than a decade after defeating Hulk Hogan for his first WWE Championship, Undertaker challenged the Hulkster for the same prize at Judgment Day in 2002. Much like that fateful night back in 1991, he used a steel chair to claim the title from Hogan.
The fiery family hostility between Undertaker and Kane reignited in late 2003. This time, however, Kane appeared to walk away the victory when he assisted Mr. McMahon in burying his brother alive at Survivor Series. As mounds of dirt covered Undertaker's seemingly lifeless body, many assumed they had finally seen the end of Undertaker.
Proving you can't kill what's already dead, Undertaker made his triumph return to WWE at WrestleMania XX. He defeated Kane to improve his WrestleMania record to an astonishing 12-0. The "Phenom's" iconic status made him the perfect target for the brash youngster Randy Orton. The third-generation grappler saw Undertaker's ageless WrestleMania record as an opportunity to permanently etch his name into the WWE history books. Unfortunately for the self-appointed "Legend Killer," he became unlucky victor number thirteen.
By 2007, there were two glaring holes on the Undertaker's impressive resume. He had never won a Royal Rumble or captured the World Heavyweight Championship. In January 2007, he filled in one hole when he last eliminated Shawn Michaels to win the Royal Rumble. Winning that match allowed him to meet Batista at WrestleMania 23 for the World Heavyweight Championship, which he won after a Tombstone Piledriver. Undertaker duplicated his efforts the following year when he toppled Edge at WrestleMania XXIV to become a two-time World Heavyweight Champion.
His time with the title was cut short when Vickie Guerrero declared Undertaker's submission hold, Hell's Gate, illegal. Edge won the match with an assist from La Familia, which resulted in Undertaker being forced out of WWE. Fortunately for fans, Edge and Vickie had a bitter falling out, resulting in Vickie reinstituting Undertaker two months later.
Over the course of sixteen WrestleMania appearances, Undertaker had never tasted defeat. However, Shawn Michaels claimed Undertaker had never defeated him in a singles match and demanded a shot at WrestleMania XXV. In what is widely considered one of the most epic matches in WWE history, Undertaker won the encounter to boost his record to 17-0, then went on to claim the World Heavyweight Championship from CM Punk later in the year. Undertaker defended the title against Punk and Batista but lost it to Chris Jericho when Michaels, demanding a second chance at Undertaker's undefeated streak at WrestleMania, interfered in the match. Undertaker ultimately agreed to the match, but with one stipulation: if Shawn Michaels lost, he must retire. The "Career versus Streak" Match took place at WrestleMania XXVI. In the end, Undertaker put Michaels through hell and sent him into retirement.
Shortly after his victory over Michaels, Undertaker was put out of action after being attacked by an unknown assailant. Kane and Rey Mysterio each blamed each other, but the truth came to light when Undertaker returned at SummerSlam and was attacked by Kane. The two eventually met in a Buried Alive Match where Paul Bearer and the Nexus helped Kane bury Undertaker, who then wasn't seen for months.
Hints of Undertaker's return first appeared during the 2011 Royal Rumble. His return on February 21 was interrupted by Triple H, making his first appearance in nearly a year. Following in the footsteps of his friend, Shawn Michaels, "The Game" sought to end Underaker's WrestleMania winning streak. The No-Holds Barred Match between two "Last Outlaws" at WrestleMania XXVII ended in victory for Underaker, but he left the ring on a stretcher while Triple H walked out under his own power.
Undertaker vanished from WWE for the rest of 2011, returning in January 2012 to demand a rematch against an initially-reluctant Triple H. The two met at WrestleMania XXVIII in a Hell in a Cell Match refereed by Shawn Michaels. The brutal encounter left both men bloodied and battered, but in the end Undertaker claimed victory and pushed his streak to 20-0. When it came time to leave the ring, all three men supported each other and walked into the night, together, symbolizing the "End of an Era."
| | | |
| --- | --- | --- |
| | The Undertaker | |
Now more than ever, it appears The Undertaker has wrestled his last match.
The pressure to return is no longer great now that his famed WrestleMania Streak is broken and it seems that with every passing year, the injuries he sustains from performing in a showcase 20-30 minute match get all the more serious. Indeed, in his bout with Brock Lesnar at WrestleMania 30, Undertaker suffered a concussion serious enough that Vince McMahon felt compelled to accompany him to the hospital and miss the rest of the milestone event.
Now, according to Dave Meltzer on a recent episode of Wrestling Observer Radio, The Undertaker is openly talking about how he may have already wrestled his last match, which would obviously preclude Sting's WrestleMania dream match from becoming a reality.
"The last we had heard, which was, I don't know what a month or two ago, it feels like a bit over a month ago, Undertaker was saying that he did not expect to ever wrestle again, but he didn't rule it out 100%, he just didn't expect it," stated Meltzer.
Since he hasn't completely closed the door on having one more match, Taker vs. Sting still could happen, but at this moment it can't be banked on occurring.
| | | |
| --- | --- | --- |
| | The Undertaker reappears | |
Though guarded with his character, The Undertaker will stop for an impromptu photo-op with fans.
On Sunday, two fans managed to catch the absent WWE Superstar in his hometown of Austin, Texas, and posted the image on Twitter.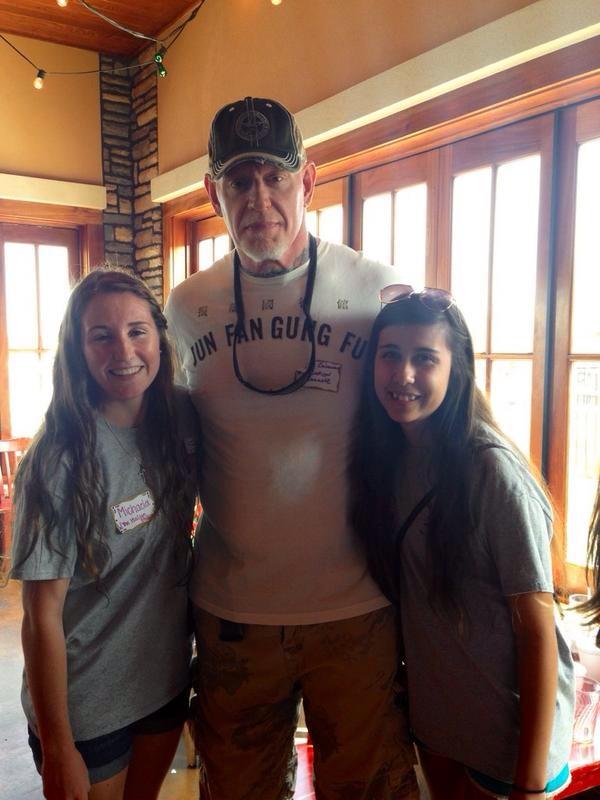 With Sting now in bed with WWE, the WCW icon has been actively campaigning for a "dream match" with The Undertaker. However, the possibility of two legeneds facing off in a "dream match" appear slim as the former WWE Champion may have already wrestled his last match.
Undertaker has been telling those close to him that although he doesn't completely rule out wrestling again, he does not expect to.
Wrestling Observer editor Dave Meltzer said recently on Wrestling Observer Radio, "The last we had heard, which was, I don't know what a month or two ago, it feels like a bit over a month ago, Undertaker was saying that he did not expect to ever wrestle again, but he didn't rule it out 100%, he just didn't expect it."
| | | |
| --- | --- | --- |
| | The Undertaker | |
Once considered taboo, former WWE Diva Michelle McCool has begun opening on her relationship with The Undertaker in recent months via social media.
In April, she posted a photo of herself standing next to a lifesize Undertaker standup, proclaiming him as "my man." Later, she posted a photo of herself donning a sweatershirt reading "Calaway" - The Undertaker's last name. This week, she posted a photo herself with her husband, who is cropped out: "Ok, ok......I give in! Here's a pic of me & my hubs!??????#neverhavebeengoodatcropping #fullheart."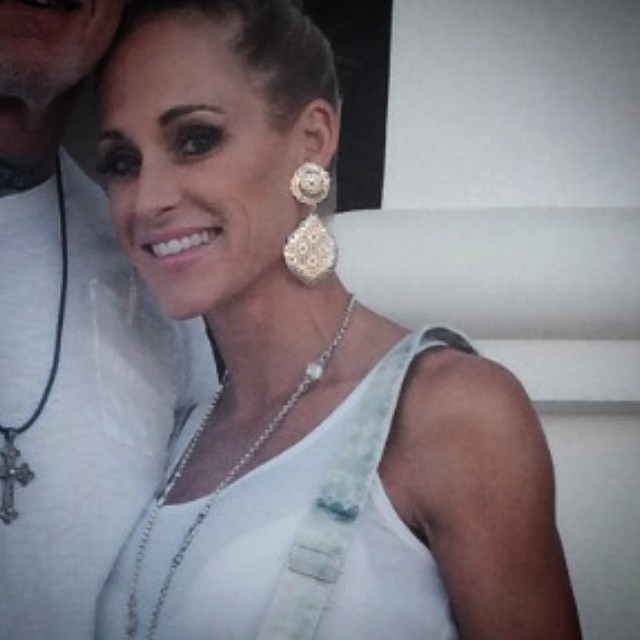 The photo was shot over the weekend, with the couple attending Mick Foley's comedy show in in Austin, Texas. The Hardcore Legend subsequently acknowledged their relationship in a post on Facebook.
He wrote: "Yes, the rumors are true - there was a very rare sighting of the The Undertaker at my show last night in Austin, Texas. I had told his wife, Michelle McCool about my show a few months earlier, but to be honest, until that huge frame filled the doorway to my dressing room, I really did not expect to see the phenom in person. It's funny how even seasoned veterans like me know without being told that The Undertaker is a unique figure in the history of our business, and should be treated accordingly. There's no "hey Taker, how about a pic" question, and no chance of him taking part in the Q & A - since it's understood that unlike so many of us, who have benefitted from the attention social media has afforded us, The Undertaker is that rare figure who grows in lore by the mysterious, almost mythical nature of his character."
"Besides, I don't need a photo with Taker. Together we created a moment in time that will outlive either of us - a moment that only grows in stature as time rolls on.
"Thank you Taker, for giving me the honor of your company and friendship."
| | | |
| --- | --- | --- |
| | The Undertaker gags at the sight of cucumbers | |
Jen Hagopian, catering crew chief for WWE, recently spoke to FirstWeFeast.com about the organization's "bizarre world of catering." In this article, Hagopian dishes on the favorite snacks of WWE's stars.
According to Hagopian, the favorite snacks of the following WWE stars are as follows: Undertaker (Diet Dr Pepper), John Cena (Diet orange soda), Dean Ambrose (Oats 'n Honey Granola Bar from Nature Valley), Alicia Fox (almond butter and cocoa powder).
On the other end of the spectrum, The Undertaker has an extreme distaste for cucumbers. And it's not just because of the taste.
Paul Bearer, the late legendary manager of The Undertaker, revealed a few years ago during a shoot interview with Jim Cornette that The Deadman fears cucumbers
Traveling around the world as stars of the World Wrestling Federation in the early 1990s, The Undertaker often traveled with his on-screen manager because it helped protect his mysterious gimmick. Being an old school wrestler, 'Taker always protected kayfabe, and insisted on not being seen out of character. As such, whenever the duo traveled together, Bearer was always the one who had to get out and fill the tank with petrol.
One day when they stopped at a gas station to fill up, Bearer desperately needed to use the bathroom. The Undertaker showed no mercy and made his manager fill the tank first, which resulted in Bearer urinating his trousers. Undertaker found this hilarious and quickly spread the story to organization chief Vince McMahon and the locker room.
How did Bearer get his revenge on The Undertaker? Aware of his bizarre phobia of cucumbers, he proceeded to fill The Deadman's hat with the vegetable, topping it up with the green substance right to the brim. When 'Taker picked the hat up and caught sight of the cucumbers he legitimately freaked out and vomited.
Cornette asked Bearer why The Undertaker is repulsed by the sight of cucumbers. He responded that The Deadman has had this phobia since he was a child.
"I guess his mother made him eat them or something when he didn't want to eat them and he just hates cucumbers," said Bearer.
As long as he continues to wrestle, The Undertaker will continue to participate in autograph signings from time to time. With his bizarre phobia, it would be interesting to see how he would react to a fan bringing him a cucumber.

---


Latest Headlines
»

Chris Jericho Explains How Kane Caused Him To Bleed On Raw
»

Backstage News On How WWE May Introduce Prince Devitt On TV
»

WWE Teasing Sexual Tension Between AJ Lee and Paige?, More Edgier Angles
»

WWE Fans Describe John Cena In One Word, Swagger Talks Pranks with Zeb
»

Brock Lesnar on If His Game Plan Changed for Night of Champions, More
»

Backstage News On Why WWE Doesn't Push Dolph Ziggler As A Main Eventer
»

WWE Diva Does A Major Botch On Raw
»

Brock Lesnar Not on RAW?, More New WWE Network Content Coming Soon
»

The Hardys on WWE Network, WWE Announcer Helping with NXT Production, NOC
»

Top WWE NXT Wrestler Reportedly Working as The Bunny on WWE TV Recently
»

Photo of Hogan with WWE Studios Co-Stars, Barrett Comments on Nexus, Mero
»

Chris Jericho Possibly Working After WWE Night of Champions, NXT Takeover
»

Another Match Being Added to Night of Champions?, Ambrose News, More
»

WWE NXT Star Steve Cutler on Meeting Darren Young While a US Marine, More
»

Ladder Match, Title Matches, Battle Royal and More Set for Tonight's TNA
WWE Hall of Famer Jake "The Snake" Roberts, who came up short to The Undertaker in a memorable affair at WrestleMania VIII, portrays his first ever encounter with "The Phenom" as one that centered around strip clubs and the consumption of alcohol.
"I was there when he first got in there in the WWE," remembers Roberts in an interview. "Here's really quite a story: He comes to me, he says, "Hey I hear you know where all the good strip joints are at." And I'm like, "In the world, yes. I know them all." And he's like, "Well, I'll travel with you!"
Roberts, a notorious alcoholic, did not believe the young upstart would be able to last a single week traveling with him, but took him under his wing in any case. A few weeks later, "The Deadman" was having his stomach pumped in the afternoon and performing at World Wrestling Federation live events at night as though nothing had occurred. Roberts indicated that 'Taker didn't even need to wear his trademark make-up given how pale his face appeared from drinking so much.
"So, he tried to hang with me, and it's a chemical world, so I was cheating," recalls Roberts. "After about three or four weeks, we went to TV and [Vince McMahon] looked at him and said, 'Mark, I don't think you need the makeup today, you look like hell. Jake is killing you and a few days later, he was in the hospital with alcohol poisoning. Finally, I had to smarten him up and tell him how I was doing it, and we then became very, very good friends."
As wild as Roberts' story sounds, this would be considered ordinary behavior in the professional wrestling industry in those days. Excessive amounts of alcohol was just a way for "the boys" to bond while traveling the road.