Ezekiel Jackson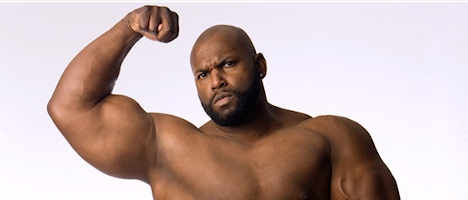 Ezekiel Jackson is the definition of ringside intimidation. Born in Guyana, Jackson moved to Harlem, N.Y., where the rough streets helped raise him. Growing up, he was forced to often do what he does best - bust heads and take no names, feeling no remorse for any of his actions. Through his experiences, he learned the hard way that sometimes a man has to do what he has to do.
Jackson entered WWE as an associate and bodyguard of The Brian Kendrick in July 2008 on SmackDown. He made a strong debut in the WWE ring three months later, and later started teaming with The Kendrick. Jackson set on his own after the 2009 WWE Supplemental Draft, and was drafted to the Land of the Extreme.He made his ECW on Syfy debut in July 2009, quickly dominating his competition. On the final edition of ECW on Feb. 16, 2010, Jackson defeated Christian in an Extreme Rules Match to become the final champion in ECW's history.
Big Zeke is now making his presence felt on Raw. With his unbelievable 23-inch arms, 52-inch chest, 20-inch neck and 30-inch thighs, who dares get in his way?

EZEKIEL JACKSON FEATURES