Jim "The Anvil" Neidhart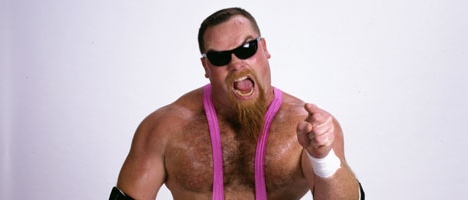 His menacing laugh, barrel chest and point goatee made Jim Neidhart one of the most recognizable Superstars of the 1980s and 1990s, but it was his efforts as a member of the Hart Foundation that made him one of the most feared competitors of all-time.
Following some very intensive training from Stu Hart in the legendary Dungeon, Neidhart got his start competing in Calgary's Stampede Wrestling. For the next years, he gained great experience competing alongside Canada's best. However, it was the nickname he earned during this time that proved most valuable. After Stu Hart paid him $500 to enter (and win) a local anvil-throwing contest, Helen Hart started calling him "The Anvil." The nickname has stuck with him to this day. (Continued Below)

JIM "THE ANVIL" NEIDHART FEATURES
(Bio Continued)
In the early 1980s, Neidhart moved to the World Wrestling Federation after Vince McMahon purchased Stampede Wrestling. A few months into his tenure, he began teaming with Bret Hart. Managed by Jimmy Hart, the team became known as the Hart Foundation and would on to become one of history's most successful teams.
After the Hart Foundation broke up in the early 1990s, Neidhart began teaming with Bret's brother, Owen Hart. Initially, the duo achieved lackluster results and soon separated, but they later reunited when Neidhart helped Owen win the 1994 King of the Ring. Together, they spent the next six months trying to expel former ally Bret "Hit Man" Hart from the World Wrestling Federation.