Lance Cade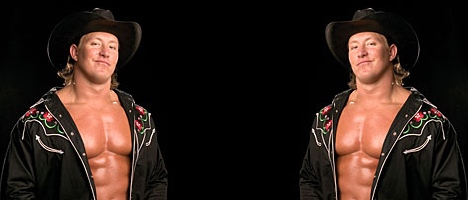 Lance Cade received his first big break in September 2005 and the proud Southerner took full advantage of the opportunity. Teaming with Trevor Murdoch, the duo defeated The Hurricane and Rosey in their first Raw match. A few weeks later, they used the momentum from that win to capture the World Tag Team Championship. The rugged Southerners held the titles for close to two months before losing to Big Show and Kane. Cade and Murdoch chose to split amicably, an amazing feat considering tag teams rarely break on good terms.
On his own, Cade struggled to find his way. After six long months of non-descript matches, he finally chose to reform his union with Murdoch. The decision to reunited proved advantageous, as two more championships reigns soon followed. After an uncharacteristic losing streak plagued the team in May 2008, Cade took out his frustrations on Murdoch, officially marking the end of the successful tandem. Cade's second attempt at singles success got off to a much more positive start. Rather than sitting back and waiting for the spotlight to come to him, Cade went out and grabbed it for himself. After wisely forming a working relationship, Cade positioned himself in the mix alongside such legends as Shawn Michaels and Triple H. However, the alliance would prove to be short-lived as he was suddenly released from his WWE contract on October 14, 2008. Jim Ross later stated that "he made a major league mistake while utilizing bad judgment" which was instrumental in his departure. Ross also made reference to Cade having a seizure on a plane and needing emergency medical care.
In September 2009, Cade reached an agreement with World Wrestling Entertainment to return to the organization. He would then appear in a tag team match for Florida Championship Wrestling, the official developmental territory for WWE. However, Cade was once again released on April 2, 2010 before ever returning to the main roster.
Cade, who's real name is Lance McNaught, died on August 13, 2010 at his family home in San Antonio, Texas. The cause of death was apparent heart failure.

LANCE CADE FEATURES

LANCE CADE'S BRIEFLY HEARD THEME SONG BEFORE HE WAS RELEASED BY WWE IN 2008