Luna Vachon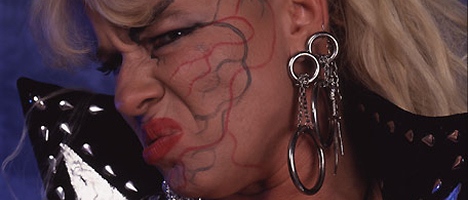 Boasting names like "Butcher," "Mad Dog," and Vivian, the Vachon family spread fear among Superstars for decades. Luna wanted to follow in their footsteps, and after being trained by her aunt and Fabulous Moolah, she made her debut in Florida in 1986.
In 1993, she brought a unique style to the World Wrestling Federation, joining forces first with "The Heartbreak Kid" Shawn Michaels, and later "The Beast From The East" Bam Bam Bigelow. She guided Bigelow through his rivalry with Doink, and his sidekick Dink, that led to their match at WrestleMania X.
After brief stops in Extreme Championship Wrestling and World Championship Wrestling, Luna returned to the World Wrestling Federation in 1997 and managed "The Artist Formerly Known as Goldust." During this time she was involved in a mixed-tag match at WrestleMania XII. Luna later joining the Oddities while on the chase for the Women's Championship. She would part ways with the organization in 2000.
Sadly, Luna Vachon was found dead in her mother's home on August 27, 2010. She will be remembered as one of the most brutal Superstars WWE has ever known for proudly carrying her family legacy into the next millennium.

LUNA VACHON FEATURES

LUNA VACHON ATTACKS WRESTLING AGENT ERIC SIMMS (THANKS TO MARKEDOUT.COM)