Andrew "Test" Martin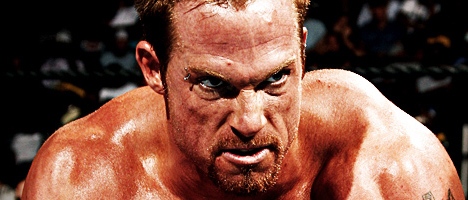 Test was living proof that it pays to be in the right place at the right time. In late 1998, the oversized Canadian caught the eyes of World Wrestling Entertainment officials when he was working as a bodyguard for Motley Crue, and was soon signed to a contract.
Mixing business with pleasure, Test eventually fell for Stephanie McMahon. The affair infuriated the male McMahons, and at SummerSlam 1999, Test was forced to fight for his love against Shane McMahon. Test's adoration for Stephanie ultimately carried him to victory. Despite the win, things quickly turned ugly for the young lovers when Stephanie concocted a devious plan to leave Test and marry Triple H.

ANDREW "TEST" MARTIN FEATURES
Refusing to be derailed by a broken heart, Test persevered. Over the next few years, he engaged in many high-profile encounters. His most notable match took place at SummerSlam 2001 where he unsuccessfully defended his Intercontinental Championship against Edge's United States Title in a Unification Match. He also captured the European and Hardcore Championships during his WWE career, as well as the World Tag Team Championship with Booker T.
Test In TNA
Following Andrew Martin's dismissal from World Wrestling Entertainment, the former Intercontinental Champion briefly resurfaced in TNA Wrestling.
Identified as "The New Enforcer in TNA," "The Punisher" Andrew Martin made his debut in the company on the August 2, 2007 episode of TNA iMPACT!. Debuting as a babyface, he aligned himself with Abyss and Sting by helping the two defeat AJ Styles and Christian Cage in a tag team ladder match.
At the subsequent Hard Justice pay-per-view, Martin, Abyss, and Sting defeated Styles, Christian Cage and Tomko in a Doomsday Chamber of Blood Match. This would prove to be Martin's one and only match for TNA as organization officials decided against offering him a contract due to concerns over his physical size in light of the impending United States Congress investigation into the wrestling business following the Chris Benoit family tragedy. Furthermore, his unimpressive debut, the feeling that he wouldn't mesh well in the locker room, and an untimely post he wrote on his MySpace account defending the usage of steroids in professional wrestling, also factored into the company's decision to not bring him back.