Tony Atlas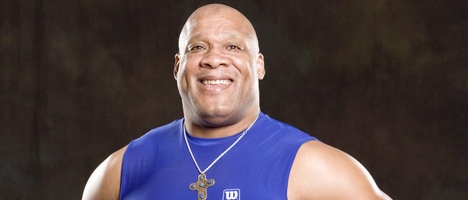 A former bodybuilder, Tony Atlas possessed one of the most impressive physiques to ever grace a WWE ring. Known as "Mr. USA," he used his great strength to break through color barriers and become a true WWE legend. Atlas made his professional debut in 1974. Despite having little experience to draw upon, his early days were filled with numerous NWA regional championships. By the early 1980s, he had properly honed his skills, developed a powerful Gorilla Press Slam, and moved north to WWE.
The WWE fans quickly took to the sculpted newcomer. Behind the support of their vociferous cheers, Atlas began to rack up an impressive winning streak, which included a pinfall victory over Hulk Hogan. In November 1983, he made sports entertainment history when he teamed with Rocky Johnson to become the first African-Americans to capture the World Tag Team Championship. They held the titles for five months before losing to Adrian Adonis and Dick Murdoch. Following the loss, Atlas became a bit of a nomad, competing for several smaller wrestling promotions such as World Class Championship Wrestling and the American Wrestling Federation.
In 1990, Atlas would reemerge on the WWE scene under the moniker of Saba Simba. Clad in a giant feather headdress and leopard print tights, Saba Simba was billed as an African tribal warrior. He struggled to pick up wins and was quickly gone from WWE, but not before he was able to compete in the 1991 Royal Rumble. He quickly moved on to World Championship Wrestling, where he teamed with Cactus Jack and the Barbarian in their rivalry with then-WCW Champion Ron Simmons. Following his departure from WCW, Atlas remained active in various independent promotions in the Northeast and Mid-Atlantic states, while also becoming a certified personal trainer in his home state of Maine.
In 2006, Atlas' efforts toward equality in sports entertainment were recognized with induction into the WWE Hall of Fame. Despite the honor, "Mr. USA" refused to retreat into retirement. Instead, he continued to compete on independent wrestling cards and eventually worked his way back into WWE. In 2008, the Hall of Famer appeared on ECW, where he quickly partnered with ECW Champion Mark Henry in working together to ensure Henry's status as World's Strongest Champion. More recently, Atlas has transitioned to his role as an announcer for The Abraham Washington Show.

TONY ATLAS FEATURES