Manu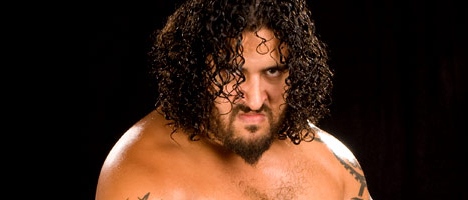 The son of WWE Hall of Famer Afa the Wild Samoan, Manu comes from the legendary Anoa'i family, which is full of Samoan wrestlers with a history of championship gold, including Manu's uncle, Hall of Famer Sika the Wild Samoan, and his brothers Samu and L.A. Smooth. With such a formidable legacy to uphold, you might expect Manu to crumple under the pressure, but the young Superstar, whose name means "animal" in Samoan, is confident in his abilities, claiming that when it comes to his impressive family, he "is the last piece of the puzzle."
First competing in the ring in Austria at the tender age of 13, the young athlete already has an immense amount of experience his resume — and having been trained by his father, Afa, certainly doesn't hurt. From headbutts to Samoan Drops, Manu learned everything from his father, who he honors with a tattooed portrait on his right forearm. In the tradition of other Samoan Superstars, Manu brings immense strength and power to the ring, but the second-generation competitor is more athletic than his predecessors, capable of pulling off in-ring maneuvers his father never could. Manu also claims to be the most well-educated member of the Samoan family, having attended the University of Connecticut, where he was an All-American football player and the No. 2 recruited Nose Tackle in the nation.
Manu was first introduced to the WWE Universe by two Superstars with similarly impressive families: Cody Rhodes and Ted DiBiase. The Samoan Superstar explained that teaming up with the second-and third-generation Superstars was only natural, being that the three grew up together in the locker room as they traveled with their legendary fathers. While Rhodes and DiBiase lived up to their lineage by securing the World Tag Team Titles, Manu was unable to live up to his.
In December 2008, the second-generation wrestler failed to pass a test Legacy leader
Randy Orton
had set out and was kicked out of the group as a result.
Sim Snuka
also got kicked out of the group and the two quickly reunited. With the aid of the returning Ted DiBiase, they planned on getting their revenge on Orton and Rhodes on the January 12, 2009 episode of
Monday Night Raw
, but the son of "The Million Dollar Man" had other things in mind as he betrayed them and reunited with Orton and Rhodes. Manu was never seen in a WWE ring again as he was unceremoniously released from his WWE contract the very next month.

MANU FEATURES

MANU TITANTRON